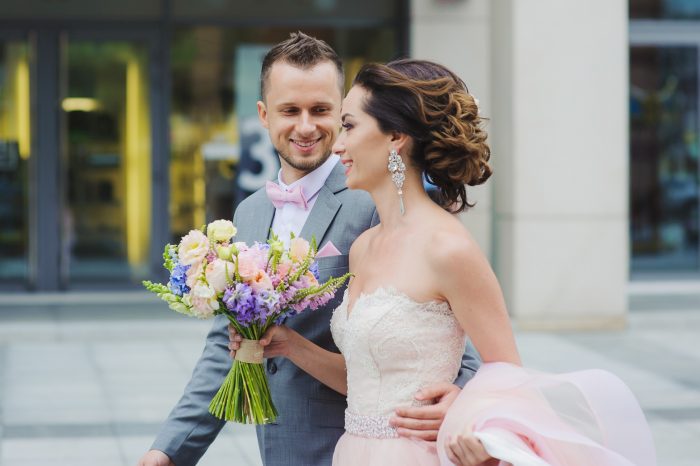 Congratulations! You're finally engaged, and on your way to a truly amazing wedding ceremony. When it comes to wedding planning, brides usually take the lead, having the final say on everything from wedding decor to catering. But why should your bride-to-be have all the fun?
Grooms have a bad reputation of being lazy when it comes to wedding planning. Many think that the groom just hangs out and helps pay for event while letting the bride do all the work. But you don't want to be a stereotypical groom. You want to break the mold, being the all-star groom you know you can be! Thankfully, Imperial Palace Banquet Hall is here to help with some useful wedding planning tips for grooms.
For more helpful wedding tips for grooms, watch the video below: 
Be Proactive!
Don't live up to the stereotype of the lazy groom. It's easy to let your future spouse do all the wedding planning work, especially because so much of it is difficult. But showing interest in the planning process will prove to your other half how much you truly love them. Be proactive and take the lead on some projects while organizing your wedding, helping out your spouse as much as possible along the way.
Support Your Spouse
Planning a wedding is a team effort, and while wives typically take the lead they can't do it all alone. As the groom, you need to support your future spouse throughout the planning process. Drive her to meetings with vendors, help her negotiate the cost of your wedding catering, and listen to her complaints about wedding planning. That support will make wedding planning much less stressful.
For more wedding planning tips and advice, check out the blogs below: 
Write Your Wedding Vows
All eyes will be on you as you and your spouse exchange wedding vows. That means you can't procrastinate when it comes to writing your vows. Be sure to start drafting your wedding vows a few months in advance, getting some feedback from friends and family before sharing them with your spouse come wedding day.
Get In Shape For The Wedding
People put a lot of attention on the bride's appearance come wedding day. She's expected to look immaculate, with a beautiful wedding dress, gorgeous make-up, and more. But that doesn't mean you can just throw on a suit without any extra work. You need to be in great shape for your wedding day! Start cutting out unhealthy foods a few months before your wedding, and consider hitting the gym to ensure you look great on your wedding day.
Practice Your Dance Moves
All eyes will be on you and your spouse during your wedding reception, with many anticipating your traditional first dance as a married couple. That means you need to actually practice dancing before your wedding. Consider booking some dance lessons for you and your spouse, providing a fun break from stressful wedding planning that will help you impress guests during your reception. But if you're both too busy for dance lessons, just take some time to study up on the internet and practice on your own.
Plan Your Honeymoon
Your wedding day will be filled with celebration and excitement, but that's just the beginning. After your wedding, you'll definitely want to have a romantic honeymoon with your new spouse! Planning the honeymoon is a huge undertaking, and needs almost as much planning as your wedding itself. But taking charge on its planning will provide your spouse more time to focus on the wedding while ensuring you have a truly memorable start to your life as a married couple.
Wedding planning can be difficult for grooms, but with a thoughtful approach and a positive mindset, you'll be able to organize the perfect wedding. And if you're looking for a wedding venue in Los Angeles, be sure to consider Imperial Palace Banquet Hall. Our event venue boasts beautiful decor, impressive amenities, and exceptional accommodations perfect for weddings, engagement parties, anniversary celebrations, and much more. Contact Imperial Palace Banquet Hall today for more information on booking and availability.