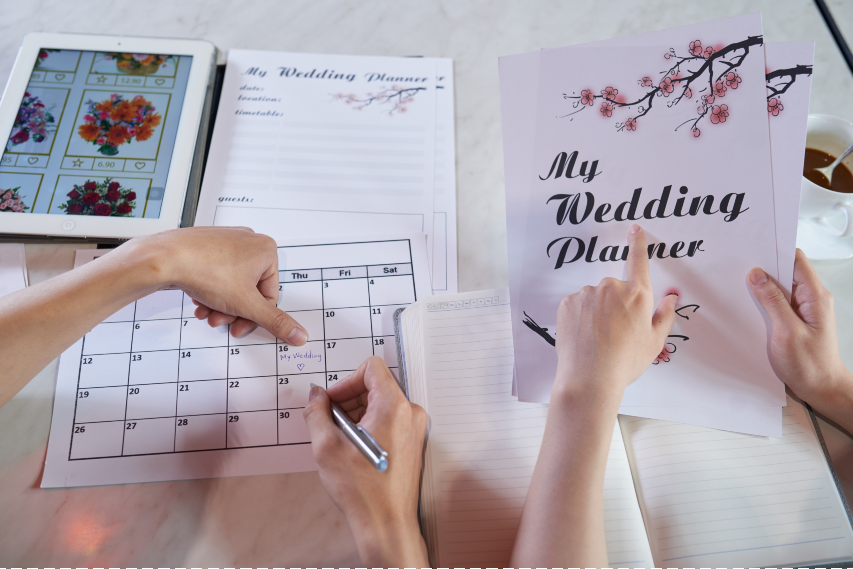 Though it's a happy occasion, it can also be challenging and exhausting to plan the wedding. There's a great deal of stress when planning your wedding, considering everything you need to think about and organize. However, a stress-free wedding planning approach can be achieved. If you implement the right strategy and techniques, it will make your process more pleasant and comfortable from beginning to end.
Tips For Planning A Stress-Free Wedding
With all that goes into planning a wedding, it's inevitable to feel overwhelmed throughout the entire planning process. Luckily, at Imperial, our hands-on team is there for you every step of the way to make it easy.
With all the customizable amenities our glamorous wedding venue has to offer, you can have everything in one place and not have to worry about gathering different vendors.
From tableware to in-house catering, we have it all! Though these amenities cannot eliminate all the stress of wedding planning, the following tips can help avoid as much stress as possible.
1. Start Early
The first tip in stress-free wedding planning is to start the process early, allowing you with more time to make decisions and avoid any last-minute mistakes. Starting early also allows you to take your time in researching various vendors, sites, and other elements for your wedding planning process. Maintain a structured and organized schedule by beginning preparation early.
2. Stay Organized
Remaining organized is an essential factor of stress-free wedding planning. It's easy to get overwhelmed and disoriented with the plethora of things to consider when planning. Having proper organization strategies allows you to keep up with deadlines and to-dos for the special day.
An effective organization tactic is to keep a wedding binder with all the necessary information and checklists or to utilize a digital planning software. With everything in one designated location, you can keep track of all factors and avoid any unnecessary stress.
3. Delegate Tasks
Dividing up all the tasks of wedding planning and asking for help if needed is another important tip in having a stress-free wedding. This allows you to reduce the amount of work that you do alone and avoid feeling overwhelmed.
Many couples decide to hire a wedding planner, which allows them to take charge of all the planning. This gives you the opportunity to sit back and enjoy the joyous moments of all the steps that lead to the special day. On the other hand, assigning tasks to family and friends allows them to feel included in the big day while also taking some weight off your shoulders.
4. Communicate Effectively
Communication is key in stress-free wedding planning. Effective communication eliminates misunderstandings, discrepancies, and allows for solutions to be formed quickly. Proper communication between family, friends, vendors, and your partner is essential in remaining calm and relaxed during the entirety of the planning process.
It's important to remain honest with everyone and bring to light any concerns you may have. This way, the appropriate solutions will be formed and any tension will be avoided.
5. Prioritize Self-Care
Your health and well-being are just as important as everything that goes into wedding planning. It's important to look after yourself and prioritize your well-being in order to prevent burnout and exhaustion. Whether it's having a spa day or taking some time for yourself, prioritizing your self-care is an essential tip in stress-free wedding planning and in maintaining your energy and health.
6. Set A Budget
In planning your stress-free wedding, it is important to have a budget. Wedding costs can be high and a discussion of the overall budget range may help you define your spending boundaries before it is too late. Set the budget down for each wedding category, like vendors, catering, flowers and photography.
With our all-inclusive wedding venue at Imperial, you can stay within your budget. Our glamorous wedding venue has everything you may need all in one place, making following your set budget easy and affordable.
7. Be Flexible
Flexibility is key to ensuring a stress-free wedding planning experience. With planning a wedding comes unexpected twists and turns. Thus, it is crucial to keep an open mind and remain flexible when introduced to changes or unforeseen circumstances.
It's always possible things don't go according to plan, but with a flexible approach, you can come up with your own solutions and adapt quickly when something happens. You don't have to worry about situations that may be resolved in a matter of moments when you approach everything with an optimistic attitude.
8. Take breaks
In order to avoid exhaustion and confusion, it is necessary to take time off when preparing for a wedding. A major strategy in approaching wedding planning with renewed attitude and attention is to relax and refresh your body and mind.
Give yourself a well-deserved break to recharge your mind whether you're going for a walk, reading a book, or watching TV. It is important that we remember that taking breaks is not a waste of time, but an essential element in stress-free wedding planning and in the management of our own health.
9. Remember the bigger picture
Taking into account a wider picture is the final indispensable step in stress-free wedding planning. You can easily get wrapped up in wedding planning details and forget the purpose of getting married is to celebrate love. Small touches do need to be important, but their joy must not overshadow your wedding day.
If you are frustrated and overwhelmed with all the preparation, take a moment to remind yourself what is really important. It will provide you with an optimistic and easy view of the planning process. You can have a stress-free marriage and enjoy all the amazing moments that are going to last your life by paying attention to this larger picture.
Stay Stress-Free At Imperial Banquet Hall
Have a memorable, joyful, and extraordinary wedding planning process with these crucial stress-free wedding planning tips.
The team at Imperial is with you every step of the way to ensure that you are stress-free and at peace while arranging your wedding. Our skilled and professional staff will handle everything and make sure you have the wedding of your dreams.
Explore our venue today and discover the amenities it offers!