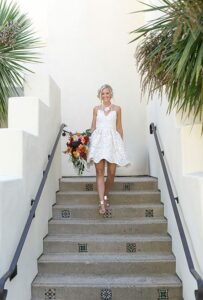 When it comes to getting ready for your wedding day, it is best to try and be as prepared and organized as possible. While it already seems like you have to think of ten million details, it all pays off in the end when you can relax and enjoy the fruits of your labor on your special day. One area of wedding planning to include in your itinerary is the clothes you will want to have on hand and already picked out for your wedding weekend. Don't waste any time or stress out when you are scrambling to find clothes. Take our advice and plan out ahead of time these 5 types of outfits you'll be happy you have when you wake up on the big day.
Travel Outfit
No matter if you're getting married at the local church in your home time, or if you're traveling a thousand miles away to say "I do," prepare a travel outfit to wear as you leave home or your hotel to get to the venue where you'll be getting ready.
Dressing Outfit
You can't get your hair and makeup done in your underwear and bra as you do at home on your wedding day. And you probably don't want to be in your mismatched pajamas either because your photographer will be snapping photos of you all day and the "getting ready" shots are some of the cutest you'll love to look back on. Plan to look effortlessly chic with a comfortable yet cute outfit that's perfect for sitting for hours while you get ready. Tip: Wear a cute button down shirt or a pretty robe that you won't have to lift up and over your head after your wedding hairstyle is complete.
Wedding Dress and Accessories
Of course, you need your wedding dress in a safe spot on your wedding day where it can't get stepped on or touched for that matter. But you also need to plan out ahead of time the type of garments and any other extras you'll need. You may need a corset or some form of shapewear to look slim and sculpted under the dress, depending on its style and how it hugs your body. You will also want the right type of underwear and bra, if the dress isn't padded, that will be comfortable and won't show any lines. You will also want your wedding heels, alternate flats for late in the evening, and backup hair and makeup accessories. Extra bobby pins and lipstick or balm will be nice to have on hand in its own designated spot for touchups throughout the celebration. Don't forget your jewelry, perfume, veil or headpiece, and a portable steamer or iron for your dress if you're not sure if the venue has one.
After-Party Outfit
Many couples nowadays keep the party going long after the reception has ended. If you want to go out to your favorite night spot and don't want to don your gown, pick out a cute and less fussy outfit for the after-hours celebrating. A good option is a short white dress with cute flats or shorter heels for comfort.
Next-Day Outfit
Chances are, you will be getting together with family and friends the day after the festivities either for brunch or just to hang out and relax at home. Before the wedding, plan out your outfit that you feel is appropriate for what you'll be doing after the big day. Even if you're just lounging at home, there will still be pictures, especially if you'll be opening your wedding presents, and you will want to look cute in a flattering outfit. A casual summer dress or romper is a comfortable and fun outfit to spend the day-after with loved ones, and for heading to the airport if you'll be taking off on your honeymoon right after.
Be prepared and look great every moment of your wedding celebration by planning out these must-have outfits. When you look back on all the photos from the days surrounding your wedding, you'll be glad you took the time and effort to look chic at every moment!
To speak with wedding experts and to book your spectacular wedding venue, contact the professionals at Imperial Banquet Hall for assistance in planning your dream wedding.