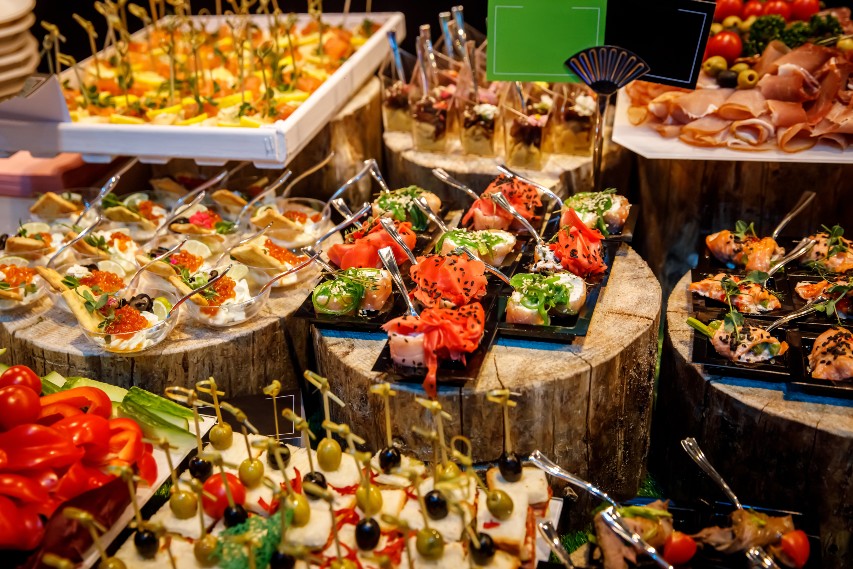 Late night wedding snacks are the perfect way to add an extra buzz to your wedding reception. Your guests will most certainly appreciate having some savory finger foods and sweet treats after busting dance moves on the floor.
Do you need some inspiration on snacks to include? This post will look at some of the best late night wedding snack ideas.
Late Night Wedding Snack Ideas To Pass Around
The following are late night wedding snacks you can hand out in plates or trays. Give guests a unique experience with our creative options. Some options include:
1. Ice Cream Sandwiches
Ice cream sandwiches will disappear quickly at any summer wedding. Nothing beats biting into a cold treat when you are fresh off the dance floor and sweating.
2. Grilled Cheese and Tomato Soup
A tomato soup and grilled cheese combo is the perfect late night wedding snack if you're looking for classic warm comfort food to serve on your big day. You can adapt this snack option to fit most wedding themes with the unlimited presentation choices available to you.
3. French Fries
You can't go wrong with french fries as a late night wedding snack. Serve the fries with a mix of sauces so your guests can make the most of dipping sauce combinations.
4. Chocolate Chip Cookies
Chocolate cookies are one of the most iconic and versatile treats across the world. You can choose from countless cookie recipes, each one highly flavorful. Your recipe can include maple syrup, sour cream, peanut butter, and butterscotch chips as fillings.
If you're looking for additives, top options include walnuts, pecans, and pine nuts. You can't go wrong with chocolate cookies as late night snacks during your wedding reception!
5. Mini Pizzas
Pizzas are always a huge crowd-pleaser. They often appear at weddings when guests start to look for refueling options.
The best thing about including a pizza at your reception? You don't have to sweat about recipes. You only need to pre-order a few pies, including a vegetarian pie, and ask for delivery toward the end of the night.
6. Swiss Pastries
Swiss pastries will be an instant hit for guests with a sweet tooth. They melt in the mouth and their delectable flavors will linger long after eating.
Some Swiss pastry options to consider include Choc Mozart and Caramel Croquant. They are the perfect accompaniment to a wedding cake.
7. Mini Lobster Rolls
Mini lobster rolls are fantastic options for midnight wedding snacks. If lobsters aren't practical, tuna or chicken works fine! These classy rolls are some of the best wedding snacks for night-long fun.
8. Mini Tacos, Burgers, and Sides
A mix of mini tacos, popcorn, fresh herbs, and mini burgers will wow your hungry guests. For an extra surprise, serve different toppings with each option.
Give your guests a savory appetizer to whet their appetite for the main meal.
9. Doughnut Holes
Serving these fried sweets on your special day will cure your guests' late night munchies.
10. Grilled Prawns
There is no bad time to enjoy fresh seafood, but grilled prawns deliver a wedding snack experience your guests will savor for a long time. Add more summer flavors to the occasion by serving lemon sauce on the side.
11. Espresso Shots
You have to keep the drinks flowing throughout the night, including coffee. Pass a shot glass of espresso to accompany finger foods like buttered popcorn, cheese bites, mini tacos, and any other extra treats you have on your list. As a bonus, your guests will get a second wind!
12. Mini Churros
Add sugar, spice, and everything wonderful to the mixture. Churro pieces with chocolate and caramel dipping sauces would definitely sate a need for dessert late at night.
13. Ice Cream Truck
Ice cream is a classic late night wedding snack. Your truck will be an instant hit with wedding guests. Request some non-dairy options and frozen yogurt to give everyone a delicious treat.
14. Biscuit Bar
Biscuits are a fixture on wedding food lists, and for good reason. They deliver an exceptional wow factor.
Your biscuit bar can feature a traditional mix of cookies, jams, and butter. Don't forget to include bacon, eggs, country ham, mini-hot dogs, and meat.
15. S'mores Bar Melting Station
A s'mores bar will delight your guests to no end. No one can resist roasted marshmallows and melted chocolate nestled between two graham crackers. Toppings like apple slices and caramel sauce take things a step further, giving your guests an especially tasty snack.
16. In-N-Out Truck
Not only are the burgers the finest, but the truck itself has a lot of impact. We love a wow element at weddings! Go with In-N-Out if you want to surprise your guests.
Give Your Guests a Treat as They Leave the Dance Floor
At Imperial Event Venue, we provide the opportunity for all the late night wedding snacks your guests could want. Whether you're interested in the options on this list or something else, turn to our expert in-house catering team.
Our all-inclusive wedding venue provides an extensive list of all types of vendors to help you make your wedding planning process easy. We'll connect you to some of the best and most trustworthy vendors that will enhance your wedding night festivities.