Searching for some sweet 16 theme ideas to make your party stand out? Your sweet sixteen is a once-in-a-lifetime event, so why not make it unforgettable with a one-of-a-kind and personalized theme? There are numerous sweet 16 birthday themes to select from, whether you want something luxurious, playful, or quirky. We've gathered a list of 7 imaginative sweet 16 theme ideas that are guaranteed to impress your guests and make your special day even more unforgettable in this article. So, let's get started and look at some wonderful sweet 16 theme ideas!
Get Inspired With These Unique Sweet 16 Theme Ideas
Bring your sweet 16 vision to life in our extravagant sweet 16 birthday venue. With a spacious ballroom and an array of fully customizable amenities, transform our venue to fit whatever theme you choose. To help you get inspired and find out which theme best suits you, we compiled a list of 7 unique and creative sweet 16 theme ideas.
1. Hollywood Glamour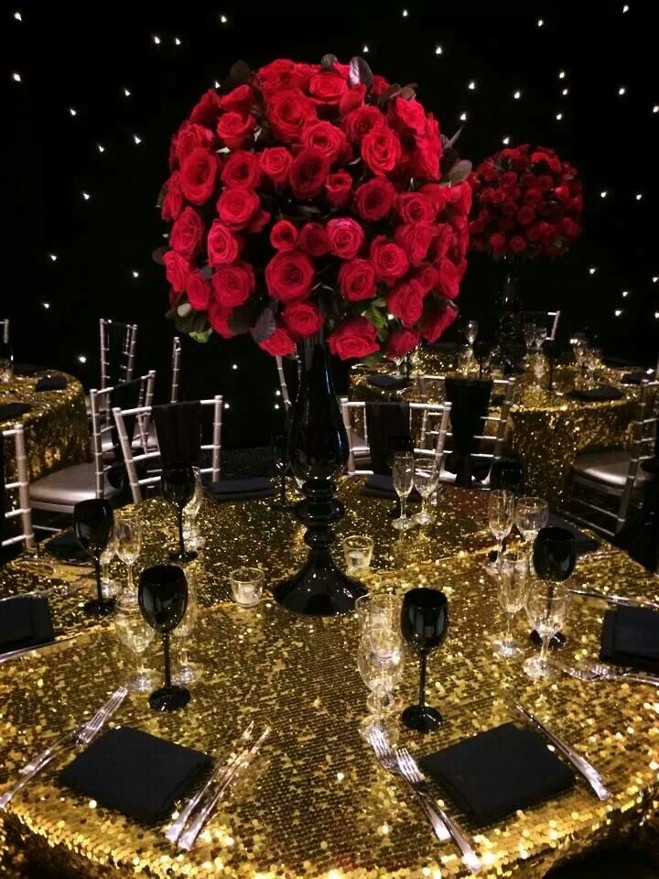 Lights, camera, action! If you're looking for a gorgeous, sophisticated, and unique sweet 16 theme, Hollywood Glamour could be the one. This theme is all about channeling old Hollywood glitz and glamour, with plenty of glitter, gold, and sequins to create a unique experience.
Be big and extravagant when it comes to decorating for a Hollywood Glamour sweet 16 theme. Begin by fashioning a red carpet entrance out of velvet ropes and paparazzi cutouts. Utilize a lot of gold and silver balloons, and decorate the location with sparkling curtains or streamers. You can also include Hollywood-themed accessories such as a movie reel, director's chair, or clapboard.
Encourage your guests to dress to the nines for this innovative sweet sixteen theme idea. Consider exquisite cocktail gowns, tuxedos, and plenty of bling and dazzle. To amp up the glitz, give a costume rack stocked with feather boas, big sunglasses, and other Hollywood-inspired accessories.
Consider combining some vintage Hollywood activities into your event to really make your Hollywood Glamour sweet 16 shine. Put up a photo booth with Hollywood-themed backdrops and props, and have visitors pose for pictures like movie stars. You may also use a green screen and some editing software to make your own movie trailer or music video, which you can then broadcast on a big screen for everyone to enjoy.
2. Masquerade Ball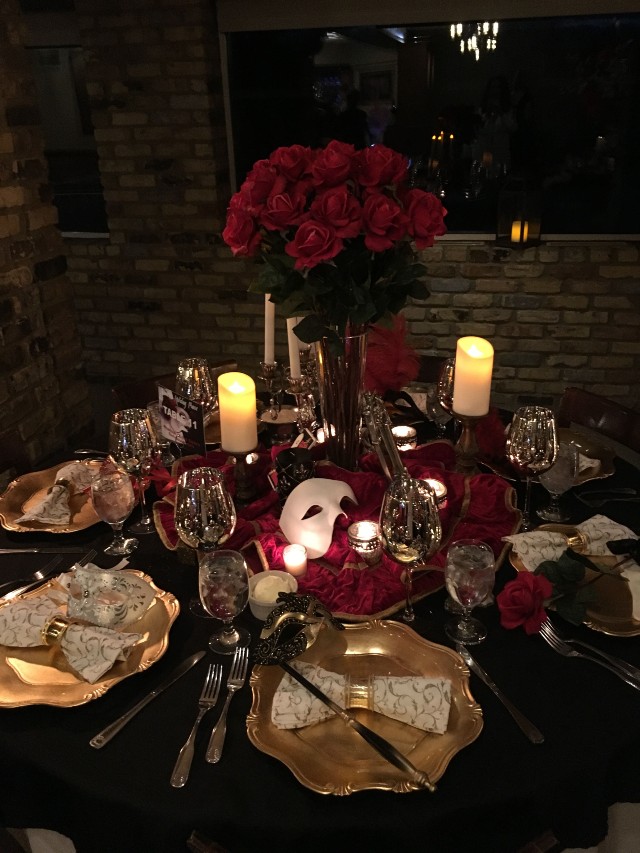 Choose a Masquerade Ball for a unique sweet 16 theme that is full of mystery and elegance. This theme is all about donning your most ornate and elegant mask and immersing yourself in the intrigue and romance of a traditional ball.
When it comes to Masquerade Ball sweet 16 decorations, go dark and dramatic. To create a rich, sumptuous environment, use a lot of black, gold, and deep jewel tones like purple and green. Install glittering string lights or chandeliers from the ceiling, and wrap lush velvet coverings over tables and chairs. Put up a photo booth with a colorful backdrop and a large selection of masks for attendees to use
Consider combining some classic ballroom games into your party to truly immerse your guests in the mystique of a Masquerade Ball. Set up a dance floor with live music or a DJ, as well as other forms of entertainment. End the night with a great reveal, where everyone removes their masks and reveals their true identity, to fully embrace the masquerade idea.
3. Enchanted Garden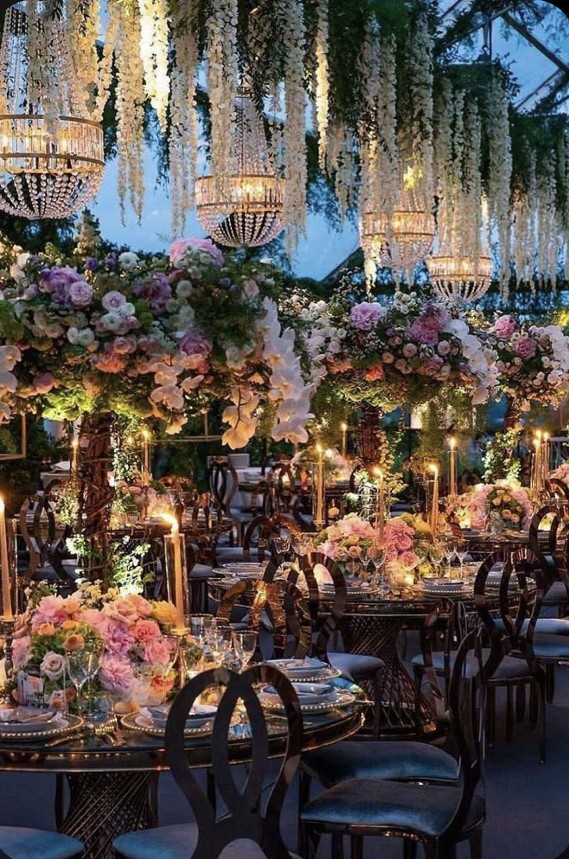 Choose an Enchanted Garden party for a creative sweet 16 theme full of natural beauty and wonder. The goal of this theme is to create a wonderful, fairy-tale ambiance that transports your visitors to a dreamy, nature-filled realm.
Think ethereal and romantic when it comes to decorating for an Enchanted Garden sweet 16. To create a rustic yet enchanting environment, use a lot of lush vegetation, flowers, and natural components like wood and stone. String lights or lanterns can be hung from the trees, and plenty of candles can be used to produce a beautiful, pleasant glow. For photo possibilities, you can even create a rustic archway covered in flowers or a lovely floral wall.
4. Roaring 20s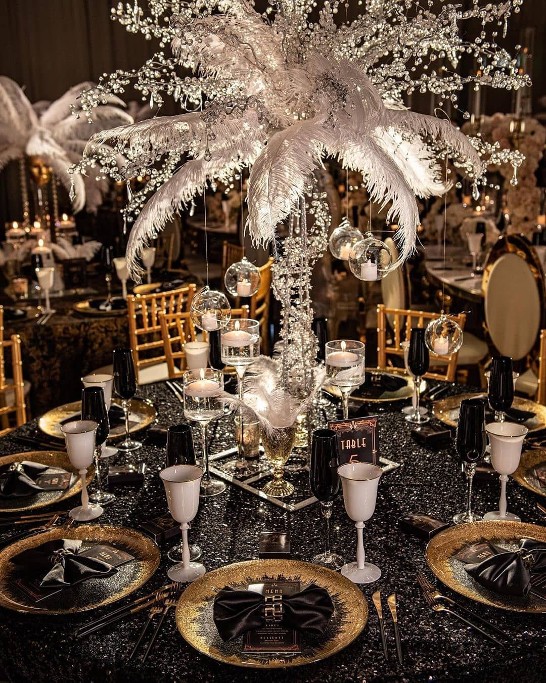 Choose a Roaring 20s party for a glitzy and glamorous sweet 16 theme. With plenty of flappers, feathers, and fringe to create a fun and lively environment, this theme is all about harnessing the spirit of the Jazz Period.
Be bright and flamboyant when it comes to decorating for a Roaring 20s sweet 16. Decorate with art deco patterns and geometric shapes, and use a lot of black, gold, and silver accessories. String lights or chandeliers can be hung from the ceiling, and a speakeasy-style bar can be set up for drinks. Add some interesting accessories, such as vintage luggage or typewriters, to truly take your guests back in time.
5. Alice In Wonderland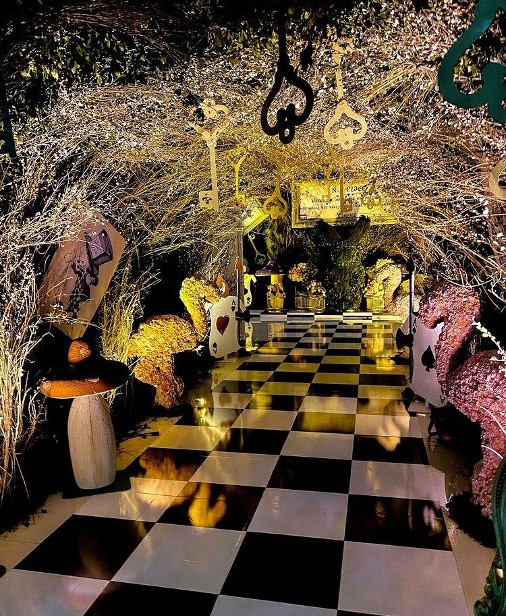 Choose an Alice in Wonderland party for a whimsical and imaginative sweet 16 theme. This theme is all about embracing Lewis Carroll's weird and wonderful world, with plenty of quirky and colorful features to take your visitors down the rabbit hole.
Go imaginative and unusual when it comes to decorating for an Alice in Wonderland sweet 16. To create a joyful and imaginative mood, use a lot of bright colors, patterns, and wacky items. Set up a Mad Hatter's tea party-style table for snacks and drinks, and hang gigantic playing cards or teacups from the ceiling. You can also include some interesting elements, such as a wall of clocks set to different hours.
6. Black & White Ball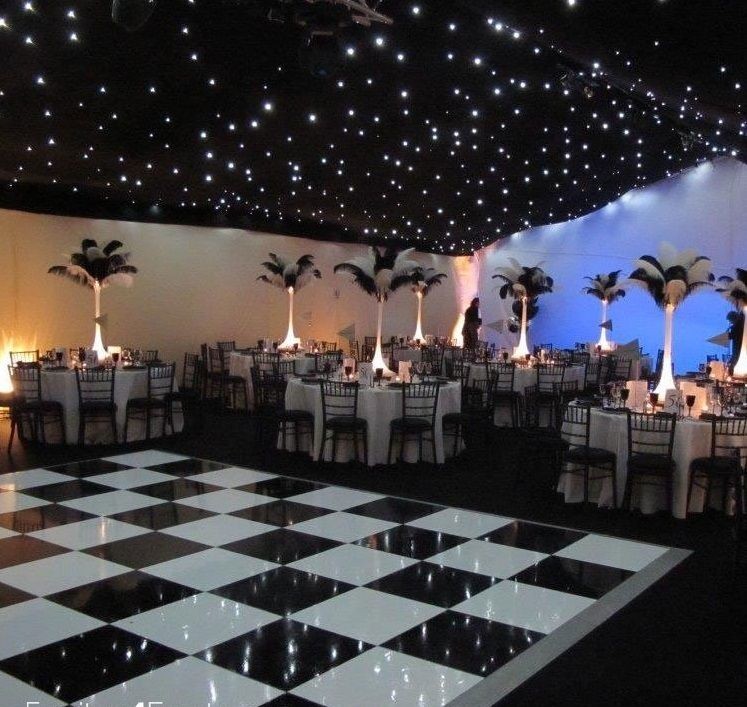 Choose a black and white ball for a classic and refined sweet 16 theme. This theme emphasizes the beauty and simplicity of a monochromatic color palette, with plenty of classic and timeless features to create a refined and sophisticated ambiance.
Think clean lines and minimalism when it comes to decorating for a black and white ball sweet 16. Employ a lot of black and white accents, with a touch of metallics like silver or gold to provide a bit of glitz. You can decorate the ceiling with black and white streamers or set up a photo booth with a black and white backdrop. For a touch of old-world elegance, incorporate exquisite chandeliers or candelabras.
7. Fairytale Princess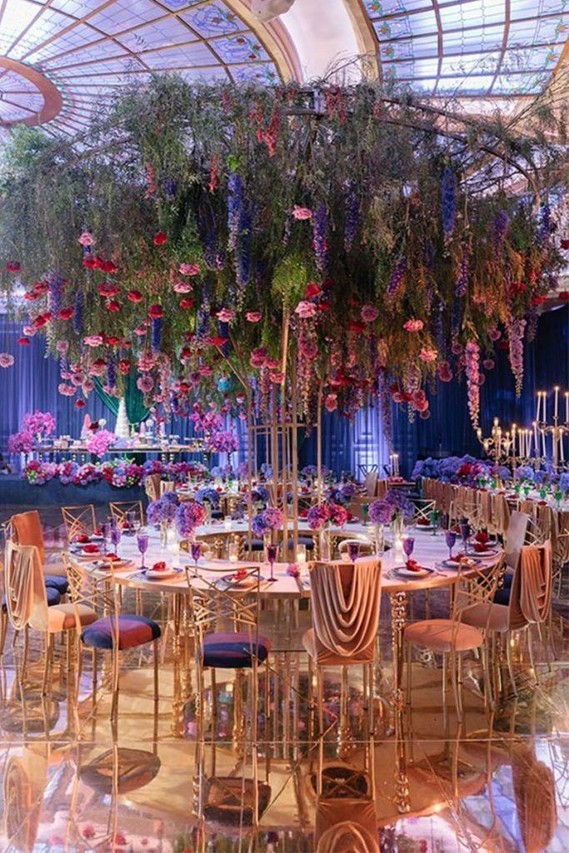 Consider a fairytale princess party as a creative sweet 16 theme that is fit for your royal birthday. This theme is all about embracing the enchantment and beauty of traditional fairytales, with plenty of whimsical and romantic touches to make your party truly magical.
Think soft pastels, floral accents, and romantic touches when decorating for a fairytale princess sweet 16. To create a dreamy and enchanted environment, use a lot of fairy lights, tulle, and glitter. Add classic fairytale features, such as a "once upon a time" sign or a carriage prop, to transport your visitors to a wonderful world.
Bring Your Sweet 16 Theme Ideas To Life At Imperial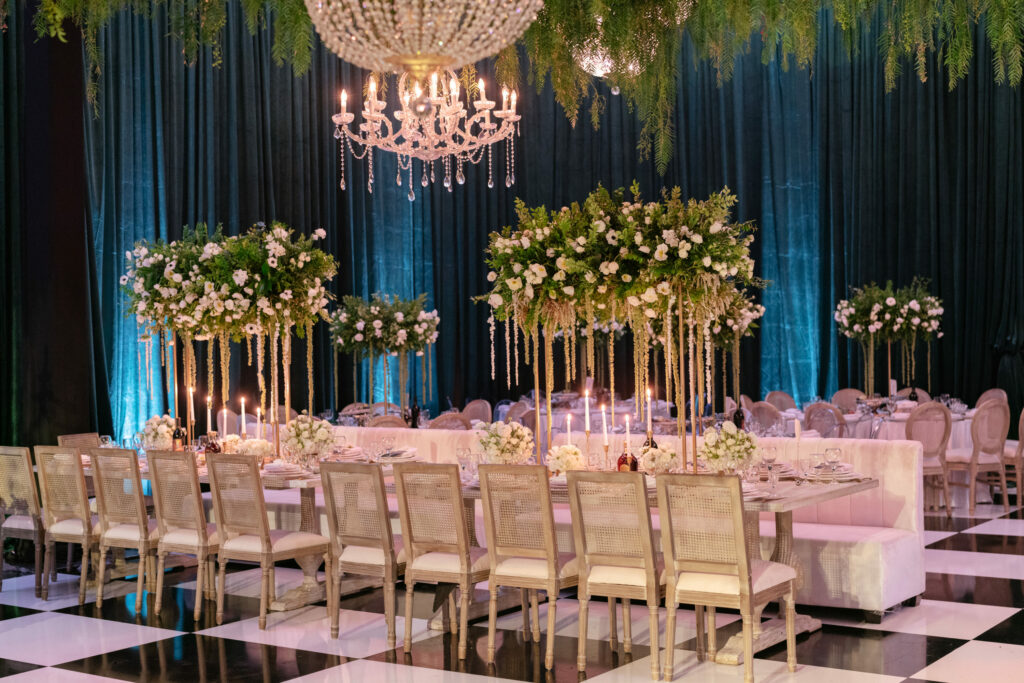 Your sweet sixteen is a milestone event that deserves to be commemorated in a memorable and one-of-a-kind fashion. You can choose a theme that truly shows your personality and flair with so many amazing sweet 16 theme ideas available. There's a creative sweet 16 theme for everyone, whether you want to take your guests to a wonderful fairytale realm or a glitzy Hollywood party. To find more inspirational photos, take a look at our pintrest!
At Imperial, we're there every step of the way to help transform our glamorous venue into your chosen theme. Our versatile venue is able to cater specifically to the environment of your choice and add a touch of elegance to your birthday celebration. To host your sweet 16 birthday celebration at Imperial, explore our venue or contact us at (626) 398 – 9898 to check price and availability!