Wedding planning can feel daunting, but finding the right wedding venue can make things a lot easier. Before you book anything though, be sure to ask each wedding venue these 17 questions to make sure you're getting the most out of your search. By knowing what to look for, you'll be able to find the perfect setting for your big day!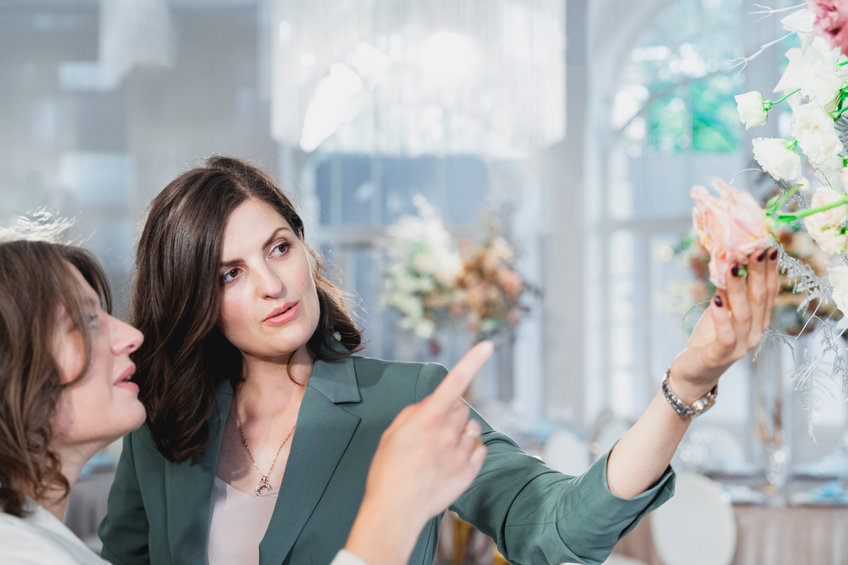 1. What is included in the cost of booking the venue?
One of the first questions you should ask the wedding venue is what is included in the cost of booking. Many venues offer a lot of amenities, but it's important to know exactly what support you'll be getting. Does the venue provide staffing, tables and chairs that you love, and basic dining rentals? Ask the representative to go through an itemized list of exactly what is included in the package.
2. Are there any add-on fees?
In addition to basic charges, certain amenities may cost extra, or a venue may have pre-set packages of different services to choose from. For example, the venue may offer to arrange the place cards in their base package, but they do not include seating chart services unless purchased as an add-on. You don't want any surprise service charges on your bill. Always double-check the final prices.
3. Who will be your point of contact at the venue?
Ask whether your location has a specialized wedding or events manager. Will you be dealing with just one person during the planning process or more? Understanding who you'll be communicating with throughout the planning will make it easier for both you and the business.
4. Is the point of contact present on the wedding day to ensure that the reception runs smoothly?
You want someone there to smooth out any mishaps that might occur during your wedding reception. As a newlywed, you'll want to be busy enjoying the festivities and won't have the bandwidth to make sure your appetizers are making it out on time. If they don't provide a venue coordinator to oversee your special day, you may need to hire a wedding planner or coordinator from the outside.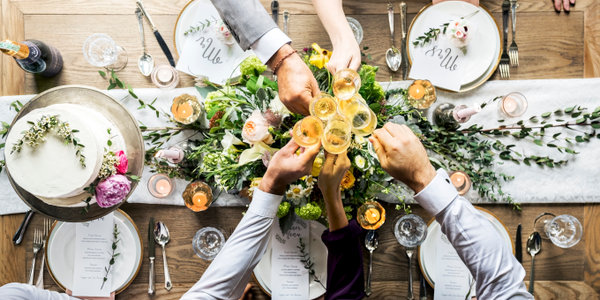 5. How many hours are you allowed to have the venue for your wedding reception?
Inquire about how long you can stay at the venue on the booking day or weekend. Certain event halls may be booking multiple weddings in the same space on back-to-back days, so you'll want to be fully aware of the time frame you're working with.
Remember that your vendors will need time to set up and tear down their stations before and after the reception. That could take a few hours or a few days, depending on how detailed your design is. Before you start planning your décor, make sure you understand your time frame.
6. What is the overtime policy?
Sometimes, time gets away from you. Whether you're having too much fun or there was a delay in the wedding cake cutting, your event might go over the allotted time. Some venues have strict cut-off times due to city or county rules. Don't risk getting shut down mid-event, and always asks about the overtime fees and cutoff policies.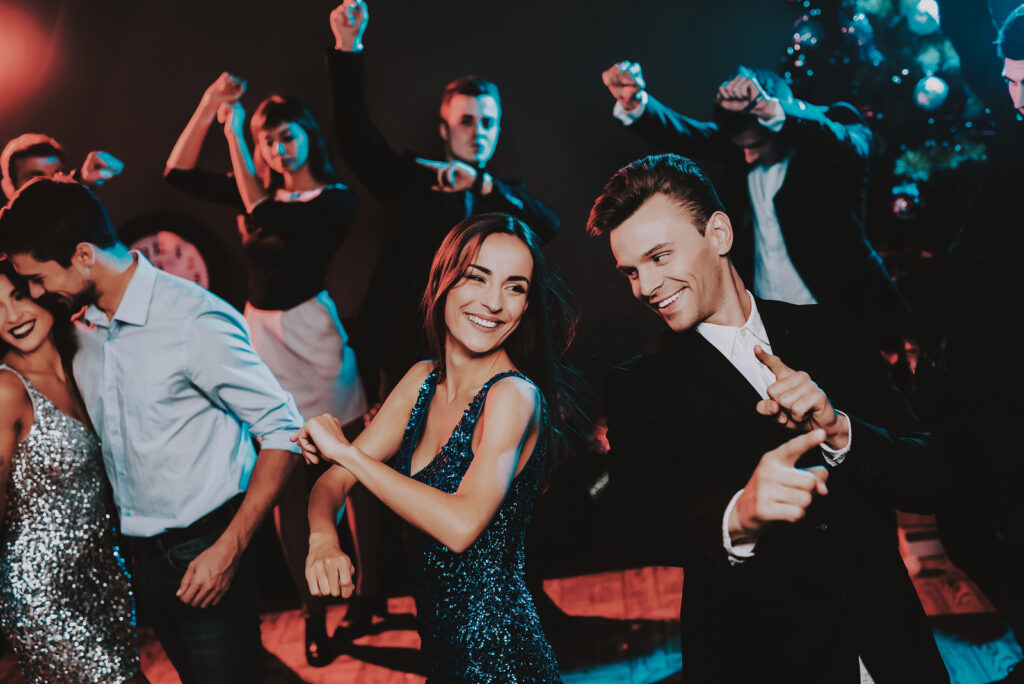 7. What kind of lighting and sound system is available for use during the event?
This question often goes overlooked by clients shopping for wedding venues. Great lighting and music set the entire tone of your reception, and if you plan on having a dance floor, they are essential. Ask for picture or video examples of potential lighting arrangements to get a feel for how your special day might look.
Find out if their sound system accommodates a DJ or live band. Depending on what the venue provides, you may need to bring your own sound equipment through an outside vendor.
8. Is outside catering allowed?
Does the wedding hall offer in-house catering services or are you encouraged to bring in outside vendors? There's no right or wrong answer here, it's whatever suits you, but if you have plans to go with a great caterer from outside, check with the venue to make sure you won't be breaking any rules.
9. When is a menu tasting done?
If you do decide to go with the in-house caterer, when do you get to try the food? Is it before or after the contract? Tasting after the contract may not be ideal, so if food is important to you, this might be a deal-breaker. Great cuisine is a vital part of you and your guest's wedding experience, so a menu tasting is essential!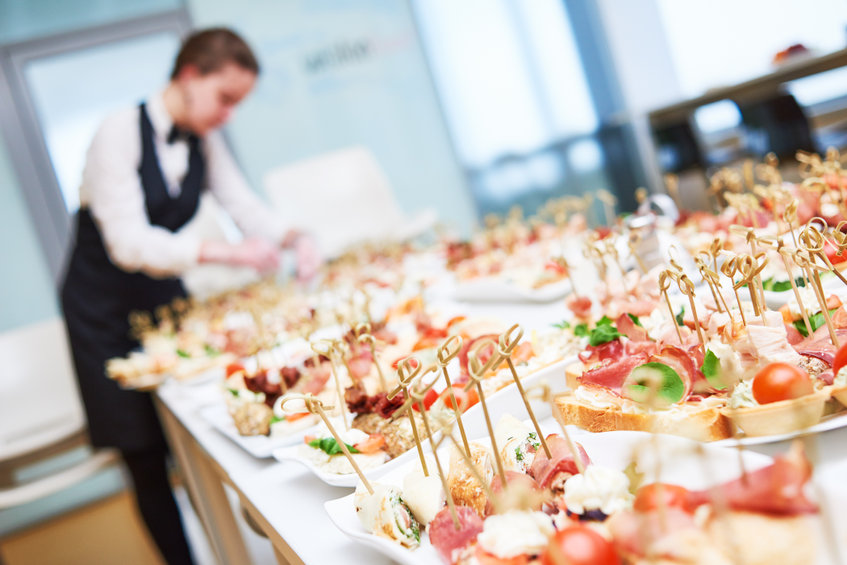 10. Are there any alcohol limitations?
Some of us envision our wedding day as a huge party with drinks that keep on flowing. However, some venues, especially wineries, do not have a liquor license to serve alcohol other than beer and wine. It would be a disappointment to find out your top venue can't serve your favorite drink at cocktail hour.
11. What is the refund or cancellation policy?
Life happens. If there's an emergency and you need to cancel or move your wedding, it can give you peace of mind knowing that you can get a refund. While many venues are flexible with their cancellation policies, it's important to ensure that you're covered. It's never fun to cancel or move your wedding, but at least you'll know that you're not throwing your funds away.
12. Can you provide references from past clients?
A referral can vouch for a venue's ability to deliver on their promises. If a wedding hall is hesitant to provide you with references, it might be because they haven't had the most success with past clients.
13. How many guests does the venue accommodate?
A venue's capacity directly relates to your guest count, so knowing this beforehand can help you plan. Not all venues have clearly stated capacity numbers, so it doesn't hurt to ask. Some might allow for slightly more or fewer people than what they advertise, while others will not accommodate these changes at all.
14. Is the venue near any hotels, and can you recommend any?
It's always a good idea to think about your wedding guests' experience. If you have many guests coming from out of town, the venue should be able to guide you toward the nearest hotels in the area. You don't want your guests to drive a long way to make it to your reception, especially if you plan to have plenty of drinks. Make your guests feel at ease by locking in lodging options close to your reception venue.
Imperial Event Venue is located in the beautiful city of Pasadena and offers plenty of local hotel recommendations.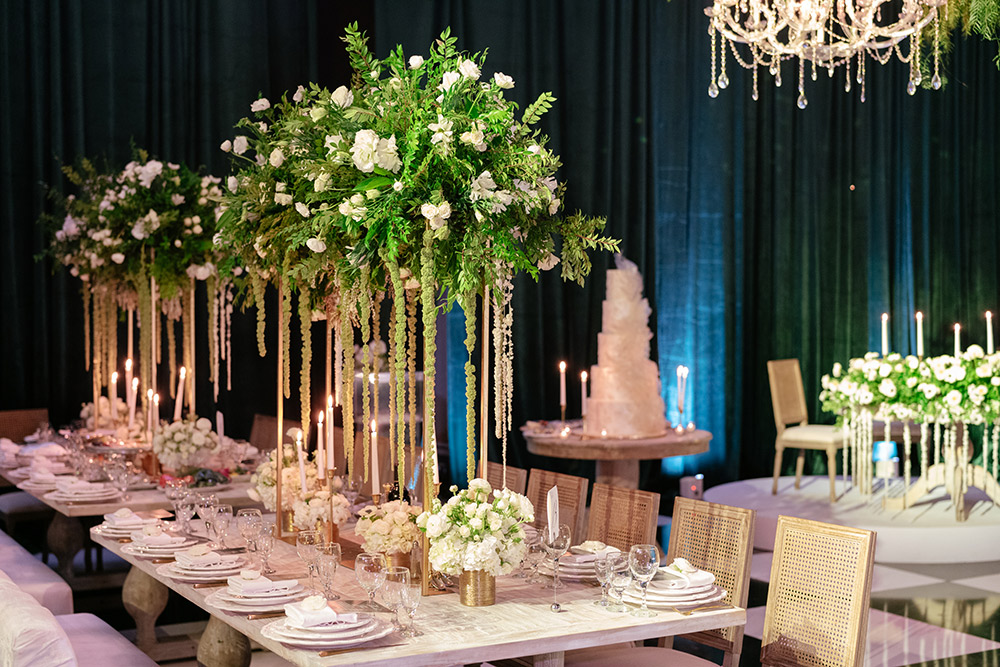 15. Is the site handicap accessible?
This is an important question to ask any wedding venue to make sure all your guests can enjoy the event. Plan ahead for any type of physical limitation.
16. Is there a separate area for getting ready?
The wedding party will want a space to wind down after the wedding ceremony and prepare for the reception's main events. Ask the venue if they have an area for everyone to rest and for the bridal party to do touch-ups before their grand entrance!
17. What does the payment schedule look like?
Most wedding venues ask for a deposit, then have varied expectations for the rest of the fee. The rest of the balance may be due slightly before the wedding day, or in some cases, the payment can even be negotiated to be due after the event. This gives you a chance to pay the venue with any money received as wedding gifts, which is common in many cultures including Armenian weddings and Filipino weddings. It's always good practice to ask about a venue's payment plan before signing the dotted line.
Time to start venue hunting!
Now that you have a list of questions to ask each wedding venue it's time to start hunting! Keep these questions in mind as you tour potential sites, and remember that it's important to get a head start in your wedding planning process. You'll feel a big sense of relief if you book your wedding venue sooner rather than later.
Being thorough and asking referring to these questions time you tour a site will help your perfect venue and have a few options for a backup plan too! find Are you excited to get started? We sure are!