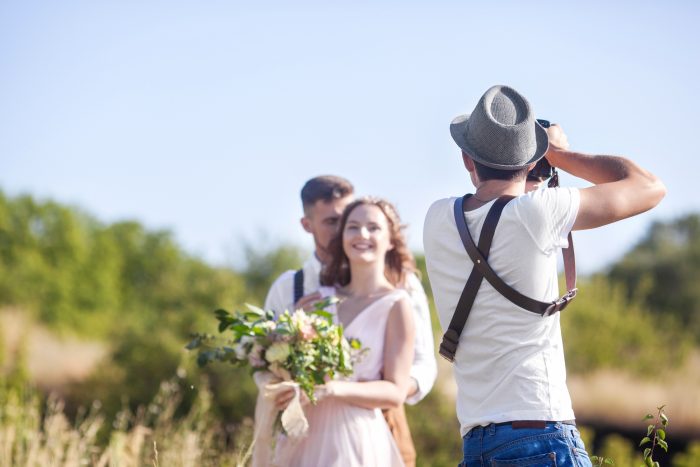 Your wedding is a day you'll want to remember for the rest of your life. And the best way to capture those memories is with some truly exceptional wedding photographer.
Almost every wedding has a photographer on hand, capturing both formal shots and candid moments. But choosing a wedding photographer can be a difficult task. Thankfully, the team at Imperial Palace Banquet Hall is here to help with a run-through of some important questions you'll need to ask your potential wedding photographer.
For more wedding photography tips, watch the video below: 
What Types Of Photos Do You Take?
As you're well aware, there are plenty of different types of photography. With that in mind, you need to make sure your wedding photographer specializes in what you're looking for. Ideally, your photographer will be great at capturing portraits and candid photos, but it's important to hear a potential photographer describe their work in their own words.
Do You Have A Wedding Photography Portfolio?
Not all photographers are created equal, and while an artist can describe their work all day, the only way you can judge its quality is by seeing it. Be sure to review your possible photographer's portfolio before making a decision. If their photos look great and match what you want for your wedding, then you know you should move forward and negotiate a price.
What Photography Packages Can I Get?
Wedding photographers don't just show up and take as many pictures as they can before your reception's over. Most will offer special wedding photography packages that include a certain number of photos, including portraits of the bride and groom with their family as well as candid reception photos. Be sure to discuss what your photographer can offer, and how much it will cost. That way, you know exactly what you should get come your wedding day.
For more wedding planning tips and advice, check out the blogs below: 
Can I Contact Your References?
Almost every job interview includes a review of the applicant's references, and that practice should hold true when picking a wedding photographer. You need to be confident your photographer is a true professional, able to take great photos while also being easy to work with. Be sure to ask to speak with some of their previous clients before making your final decision. If the photographer has great references, you know you can move forward. And if they are apprehensive about providing references, or have bad ones, you'll definitely want to find someone else.
What Info About My Wedding Do You Need?
Once you've chosen your photographer, you need to make sure they're taken care of. It's important to ask your wedding photographer what help you can provide them and what information they'll need about your event. Of course, they need to know when and where your wedding ceremony and reception will be held, but many photographers also like to have more specific information about the venue. That way, they can plan a few specific photographs ahead of time.
Choosing the right wedding photographer can be difficult, but with a thoughtful, detailed approach, you'll be able to find the perfect professional for your celebration. And if you're looking for a wedding venue in Los Angeles, you should consider Imperial Palace Banquet Hall. Our event venue offers beautiful decor and accommodations that can fit any budget, perfect for wedding ceremonies, receptions, rehearsal dinners, and so much more. For information on booking and availability, contact Imperial Palace Banquet Hall today.