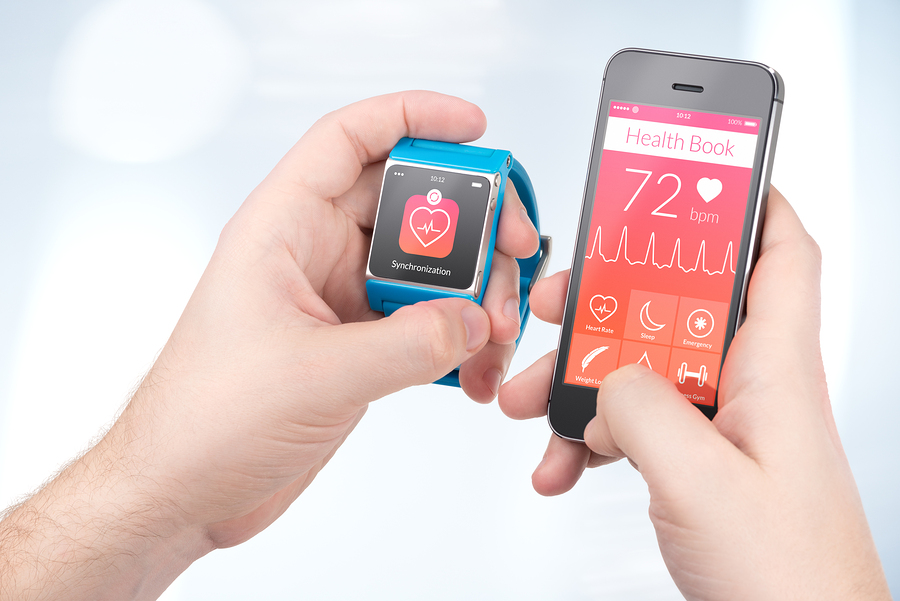 Do you want to lose weight or get toned-up before your wedding? If you're like every other bride in the world, the answer is probably "Yes! Of Course!" With everything else on your plate, however, it can seem overwhelming to also consider structuring a fitness plan and diet. Luckily, these days there are (literally) hundreds of apps available to take the guess work out of creating a fitness routine and eating regimen tailored to fit your wellness goals; it's almost like having a trusty little fitness elf right on your smartphone to help ensure the meaning of "Big Day" is the excitement you feel on your wedding (and not you!).
8 Great Apps For Working Out
1. Nike+Running. If you love running, this free app will map out your route and track your speed and distance. You can also see how many calories you burn on each outing, making it easy to set new goals for yourself in the future as your progress improves.
2. Fitocracy. If you love a challenge and the reward that comes from hitting a goal, this free app is for you. You can set goals, share pains, and look up tips and advice from other members.
3. Nike Training Club. Choose from over 100 full-body workouts, including either 15, 30, or 45 minute sessions that are broken down into easy-to-understand steps. This free app is especially useful if you are short on time or if your workout times change each day, since you can choose the time allotment that suits your schedule.
4. Pocket Yoga. This app includes 27 yoga routines you can choose from on a daily or weekly basis, depending on your personal schedule. While Pocket Yoga isn't free, it's basically just like taking a yoga class from a certified teacher without having to make the drive to a studio. Visual and audio assistance walks you through each step of every class.
5. FIT Radio Workout Music. If you love to listen to music while working out, you are already on the right track to getting more fit. Your body naturally syncs up to the beats found in your favorite songs, which helps keep you focused and motivated. This free app will play an already-compiled playlist of songs that maintain a high BPM (Beats Per Minute) to keep you energized!
6. Zumba Dance. Choose from different dance styles to work out to, including Salsa, Bollywood, Reggae, and Cumbia. You will never get bored dancing to fun routines and songs in one of Zumba's highly energized classes.
7. FitStar Personal Trainer. This app is just like having a personal trainer right there with you. You will be asked several questions about your lifestyle and fitness habits, and the app will determine your current level of health and fitness, as well as your experience level. You will then be sent videos customized to your body and lifestyle, offering a truly unique workout experience.
8. The Walk. Running and lifting weights isn't for everyone. Some of us get bored and lose motivation quickly, especially when there is no interaction involved. The Walk app basically combines reading a heart-pumping mystery novel with working out, putting you at the center of the action. The story starts with you being the victim of a mistaken identity, and you are left with a mysterious package. When a terrorist blows up the train you were supposed to board, you are forced to flee on foot, walking the entire distance of the U.K. with scary terrorists and relentless police trying to catch you! The best part? As you listen, you end up burning calories without even realizing it.
2 Amazing Apps To Help You Eat Right
9. Lose It! This free app works with others (like Nike+Running) to create a well-balanced wellness plan that combines fitness and calorie counting. You can input your calories, scan bar codes at the grocery store, and monitor your exercise routines, all with the help of one easy-to-use app.
10. Pact. This app is interesting in that you get paid money if you complete your set goals, and you pay if you don't. You set the dollar amount you are willing to risk, and you use the free app to track your activities and food intake. If you do achieve your goals, you get paid money that comes from the members that didn't hit their goals. Pretty cool, huh?
In conclusion, "there's an app for that" for pretty much anyone and everyone, whether you like running, walking, or dancing to lose weight and get fit. Allow these fitness and diet apps to customize a plan specifically for your lifestyle, and track your progress so you can increase your goals as you improve!
---
Don't see an app on this list that speaks to you? Check out the Imperial Blog for more great tips on how to get in shape for your wedding day!