It's the small, personalized details of wedding planning that matter most when you're trying to make your dream wedding come true. One way to truly add your special touch to your big day is to incorporate wedding signature drinks.
Adding your own unique cocktails can help make your wedding even more Instagram-worthy, but will also make it incredibly memorable as well. Here's a list of some of our favorite wedding signature drinks.
1. Magic Hour Cocktail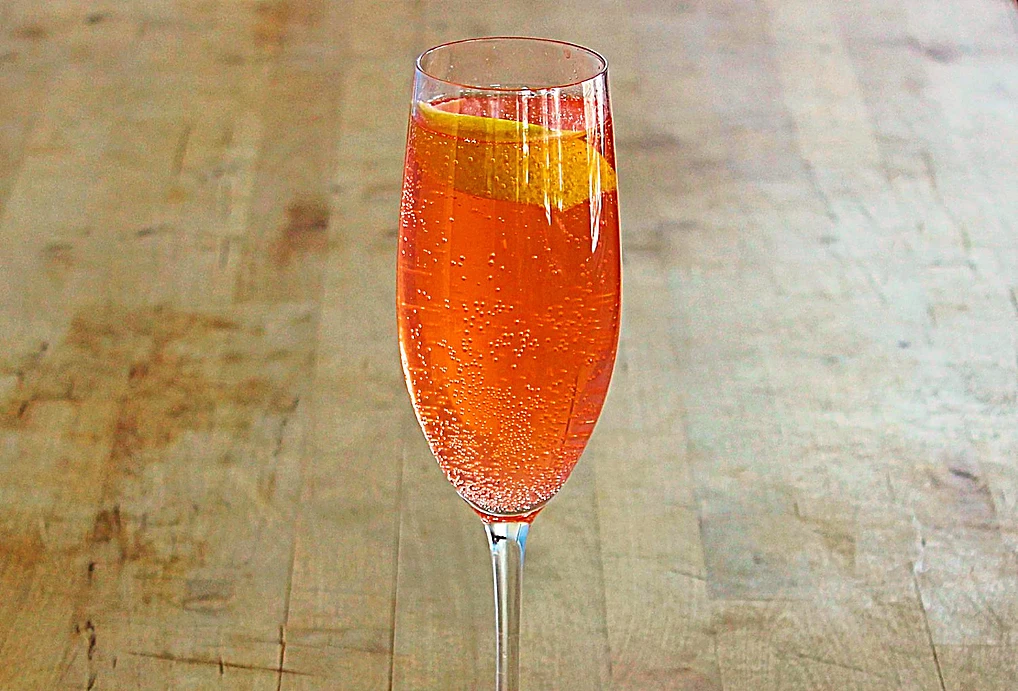 Want your champagne to have a creative twist? Try this wedding signature drink!
What You'll Need:
1 1/2 ounces of Lillet Rose
1/2 ounce of grapefruit juice
1/4 ounce of simple syrup (one part sugar, one part water)
3/4 teaspoon Yellow Chartreuse
3 or 4 ounces of your favorite champagne or sparkling wine
grapefruit peel for garnish
How To Make It:
Add all your ingredients except the champagne into a shaker with ice. Shake it all up nicely and strain into a champagne flute. Top it off with your champagne or sparkling wine, and enjoy!
2. Port Of Call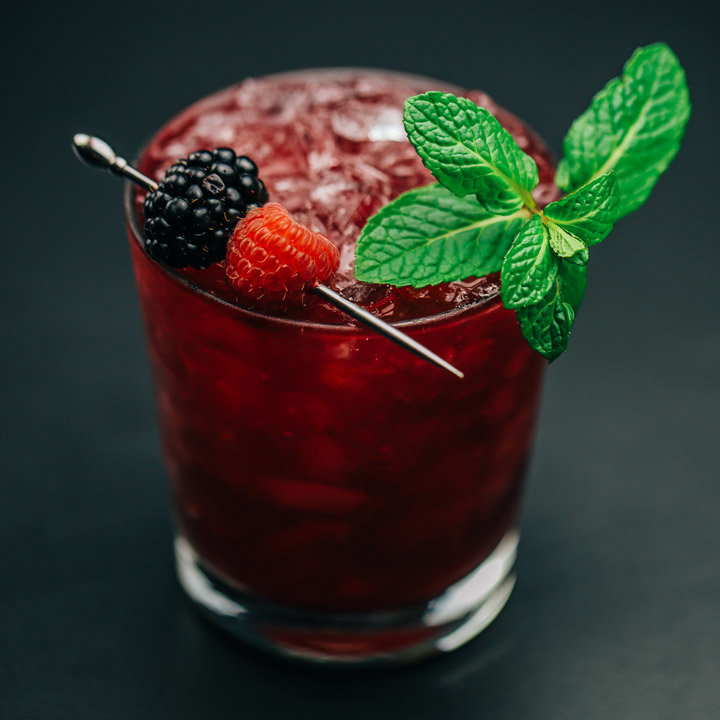 This ruby-red drink will have all your guests whipping out their phones to post pictures, and it's delicious, too.
What You'll Need:
1 ounce of your favorite gin
1 ounce of Ruby Port
3/4 ounce of lemon juice
1/2 ounce of cinnamon bark syrup
1 tablespoon of cranberry preserves
How To Make It:
Add your ingredients to a shaker and mix to perfection. Pour it over crushed ice into a rocks glass. You can add mint, raspberries, and blackberries as a garnish.
3. Pomegranate Caipiroska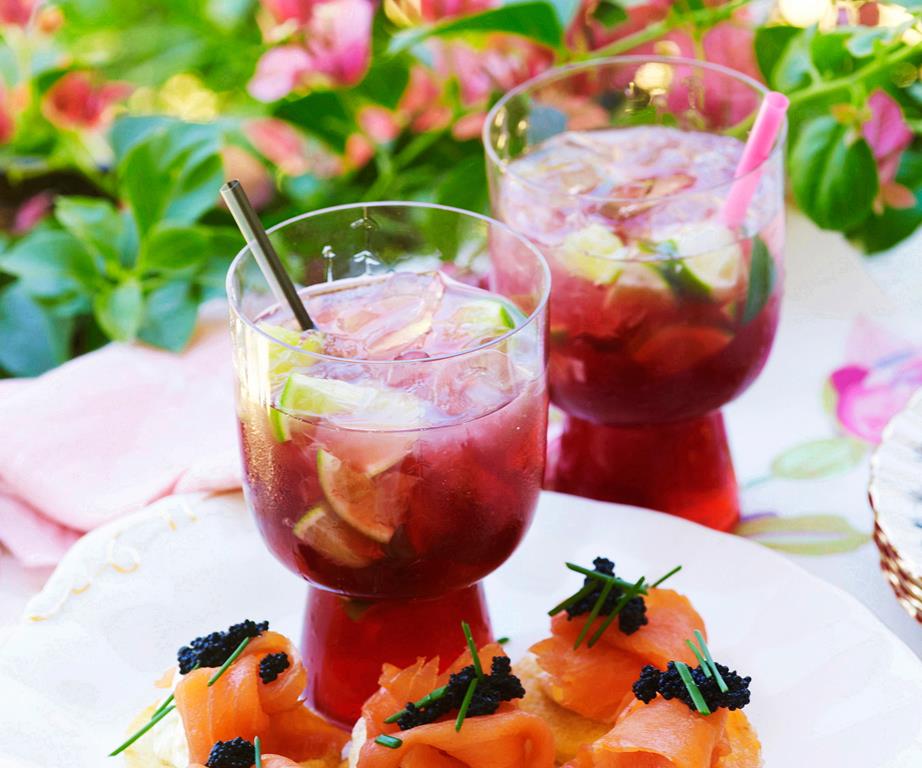 Why not add another one of these dazzling red signature wedding drinks to your menu? This one includes the always under-appreciated pomegranate!
What You'll Need:
1 cup pomegranate seeds
1/4 cup superfine sugar
1 lime cut into 8 wedges
16 ounces vodka
8 ounces of seltzer
How To Make It:
Split the pomegranate seeds, superfine sugar, and line wedges into eight separate glasses. Muddle those ingredients together in their separate glasses until the sugar has dissolved and it's mixed well. Add ice, then pour the vodka and seltzer on top. Mix and enjoy! This recipe serves about eight guests.
4. Lavender Whiskey Sour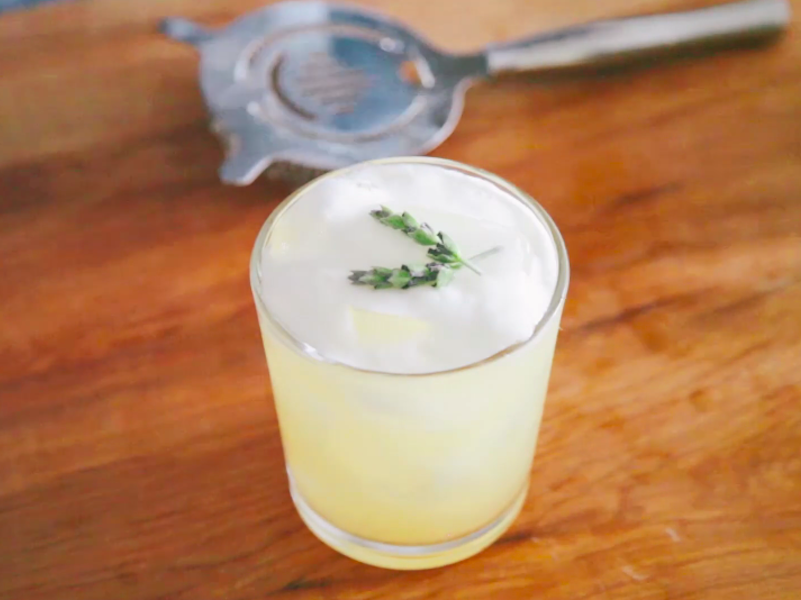 We've all heard of a whiskey sour, but why not add a unique twist? Try this beautiful, more elegant version.
What You'll Need:
2 ounces of your favorite whiskey
1 tablespoon of lavender sour syrup
a sprig of lavender to garnish
ice cubes
How To Make It:
Grab a nice whiskey glass and fill it with ice cubes. Add your whiskey, and top it off with the lavender sour syrup. Mix it well and add your lavender sprig as a garnish. Enjoy!
5. Iced Coffee Frappe With Cotton Candy
This signature wedding drink is perfect to give your guests a second wind. Give them the gift of coffee with alcohol!
What You'll Need:
6 ounces of Kahlua
1 cup skim milk
3 tablespoons sugar
3 tablespoons of instant coffee frappe mix
cotton candy
How To Make It:
Add the Kahlua, about 3/4 cup of milk, 3/4 cup of cold water, the coffee frappe mix, and the sugar to a blender and mix.
Divide this liquid mixture into three separate glasses with ice, then divide the remaining milk into each of the glasses. Top it off with the cotton candy and serve immediately to your guests. This recipe makes three drinks.
6. Ginger Apple Cider With Brandy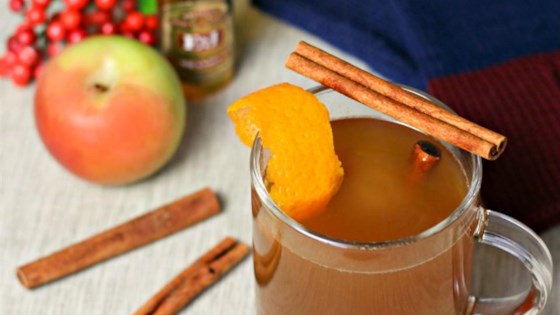 Planning a wedding in the winter? If so, your guests will definitely appreciate this particular wedding signature drink. Warm them up with some apple cider and brandy!
What You'll Need:
2 1/4 cups of apple cider
1 tablespoon of thinly-sliced fresh ginger
2 whole allspice
4 ounces brandy
How To Make It:
Bring the apple cider, sliced ginger, and allspice to a boil in a saucepan. Let it sit for a few minutes, then skim out the foam and strain any of the leftover solids.
Add about a half cup of the hot cider into each glass, and add an ounce of brandy as well. Mix well, and then feel yourself start to warm up! This recipe serves four guests.
7. Blushing Kiss Martini
Make your guests blush with this delicious grapefruit martini.
What You'll Need:
2 parts gin
1 part St. Germain
1 part grapefruit juice
grapefruit wedge
sprig of thyme
How To Make It:
Add the ice, gin, St. Germain, and grapefruit juice into a shaker and mix well. Strain into a martini glass and garnish with a grapefruit wedge and sprig of thyme. Enjoy!
No matter what wedding signature drink you select for your wedding, make sure it's something personal. This means it should be a cocktail that you actually like, and it should reflect either something about yourself, the two of you as a couple, or your wedding theme.
At Imperial Event Venue, we will work with you to come up with wedding signature drinks that are perfect for your wedding. Any good wedding venue with an in-house catering team should be able to do this for you, and it should be a fun process. Please contact us if you would like to tour our space for your wedding.