Header Image Source: perfecttheevent.com

It's true that wedding planning can often become overwhelming and stressful for couples. In fact, it has the distinct reputation for causing serious fights and turning even the most chilled-out people into monsters. But it doesn't have to be this way—we promise. If you can just avoid some of the biggest wedding planning mistakes, we're not saying it'll be smooth sailing, but it will help you dodge some major planning minefields, and you and your fiancé/e will be able to more easily focus on building your relationship instead of being at each other's throats (or someone else's).
In our experience, here are the most common wedding planning mistakes that couples make that cause serious issues or unwanted drama. Avoid these, won't you?
Not Getting Vendor Contracts
If your vendor doesn't provide a contract…thank you, next. Seriously. If they say that it's "not their policy" or it's simply something that they don't do, that is a huge red flag.
Your contract with a vendor is your safety net. If they fail to show up on your wedding day, or they're late, or their services are different than what they promised, or they attempt to scam you—anything—then you will be legally covered.
Contracts are extremely important because they contain all the agreements between you and your vendor in writing, including deadlines, overtime fees, what they need to wear/play/provide, what happens if they get sick or have an emergency, expected dates for deliveries (for photos or video footage), and so on.
Even if your vendor is a friend, get that contract. You never know what might happen.
Bottom line: getting a contract is a must.
Not Having A Rain Plan
This one's for those having an outdoor wedding, obviously. You would be shocked at how many couples don't have a plan B for rain.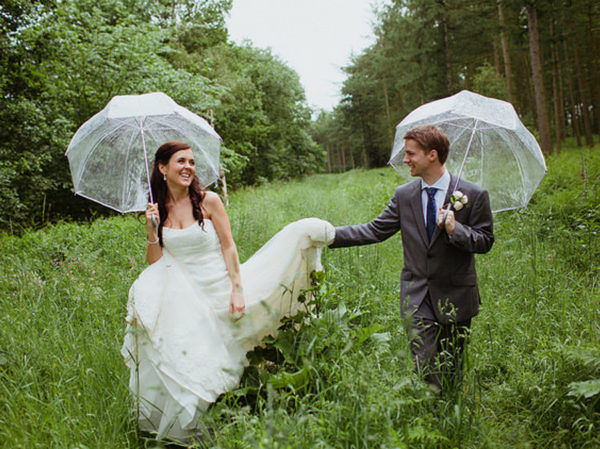 Your specific plan B will depend on your venue and what it offers, but you simply must have one. If you have a wedding planner, this will probably be a job for them—but make sure they do have ideas. And if you're on your own, don't shrug it off. Be smart and come up with something.
Booking A Friend Instead of a Professional
When engagements are announced, it can seem that everyone comes out of the woodwork and wants to help. This is sweet, but it can also cause problems if you have a hard time saying no to friends and family.
For example, if your cousin is "great with flowers" and wants to take care of your florals, but you aren't sure about her style or if you can rely on her, just say no. Be polite, but firm.
Maybe you have friends and family who enjoy taking photos, do makeup or hair, cook, have a band, want to be a DJ, or believe that they're amazing with décor. They will probably all offer to take on an area of the wedding planning, but unless you're 100% comfortable with that, then you need to say something like, "Thank you so much for offering! That is so sweet, but we already have someone in mind. We want you to enjoy our wedding instead of having to work during it, anyway!"
Not Considering Other Peoples' Finances
Before you "propose" to your potential bridesmaids and groomsmen, it's important that you consider whether or not your wedding is going to hurt them financially. Think about the cost of their attire and any money they will have to spend on various wedding events, and decide from there if you think they will be able to swing it comfortably or not.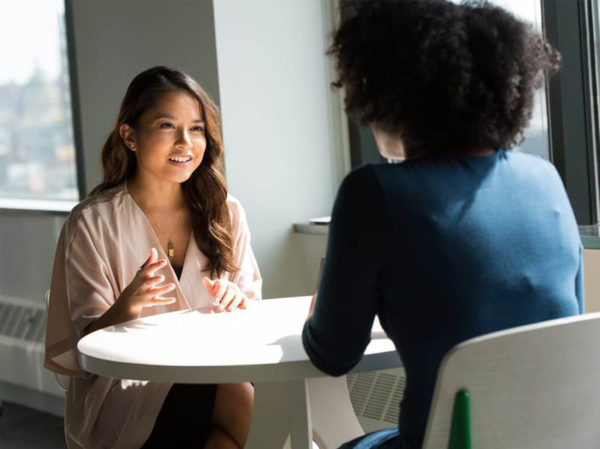 If you don't think they can but you still really want them to be part of the wedding, then you should come up with some alternatives—such as making the dress or suit part of your wedding budget and telling them not to worry about chipping in for any parties. If neither you nor they can pay for the expenses, consider having someone make it your wedding gift, and ask for it early.
There are always things you can figure out when it comes to this, but it's very important to take a step back and consider other peoples' situations before asking them and putting the pressure on.
Not Selecting The Right Venue
Many couples fall in love with a wedding venue, and then pretty much forget what it really looks like when they're selecting décor pieces. The result? Clashing aesthetics. For example, you shouldn't go with a gold-based color palette if the venue has giant silver chandeliers. Trying to make a rustic barn look upscale just isn't going to work. Attempting to make an industrial space feel warm and romantic is probably not a good idea, either.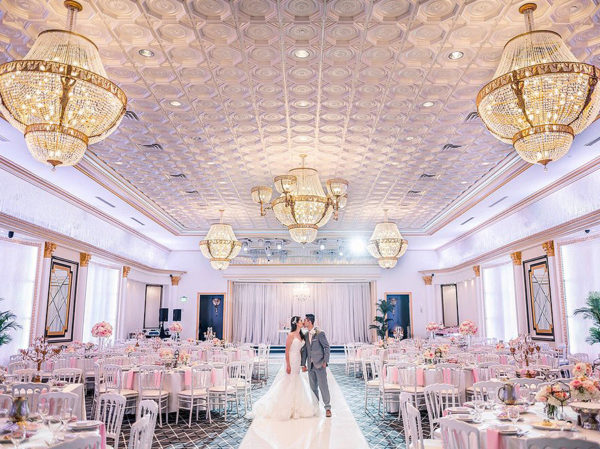 Before booking your wedding venue, ask the managers about the different types of amenities that are already there, in house. Take a look at their linens, dishes, flatware, glasses, etc. and see what you may want to bring in yourself.
Take plenty of photos so that you won't forget what anything looks like. Design with the venue in mind.
Allowing Other People To Make Decisions
There's just something about weddings that makes people suddenly turn into event planners. Out of nowhere, everyone has an opinion on the best bakery in town. Or knows the best photographer. Or knows exactly what dress type is perfect for your body.
This can be helpful, but it can also become frustrating when these people get offended when you don't take their advice. It can get even worse when it comes to things like the guest list, or what city you should get married in.
Be sure to listen to others with an open heart and mind, but stick to what you as a couple want for your wedding day. Don't let anyone have too much influence over your choices. Be grateful, but also be true to what you want.
Not Being Specific Enough With Your Photographer
It's one thing if you truly don't know anything about photography or don't have a preference in how the photos look. It's quite another if you do have a specific taste and want your photos to look a certain way.
If you have a photography tone or style in mind, it's important to be very clear and direct with your photographer. Chances are, if you've already booked him or her, you like their eye and what they typically do. But even so, it never hurts to discuss your thoughts about the photography with them. You should also go over a master photo list with them so that all the moments that are important to you are captured.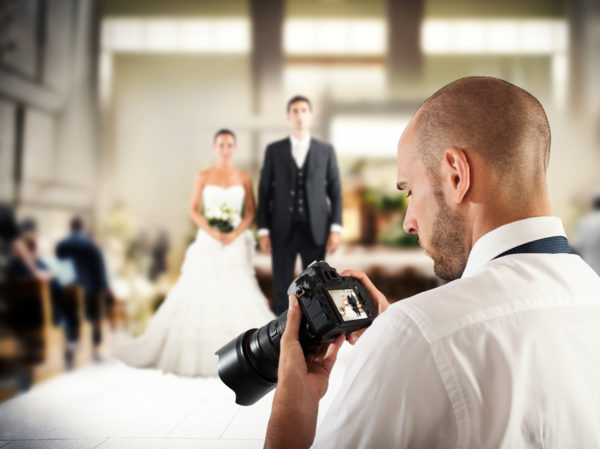 Be respectful, but understand you have the right to ask questions and give a little direction. This might make you feel bossy, but you will be glad you did it.
Sending Out Save-the-Dates Too Early
It's probably very tempting to announce your wedding date to everyone as soon as it's cemented, but hold on. You'll want to wait to send out your save-the-dates until you have totally, completely, 100% finalized your guest list.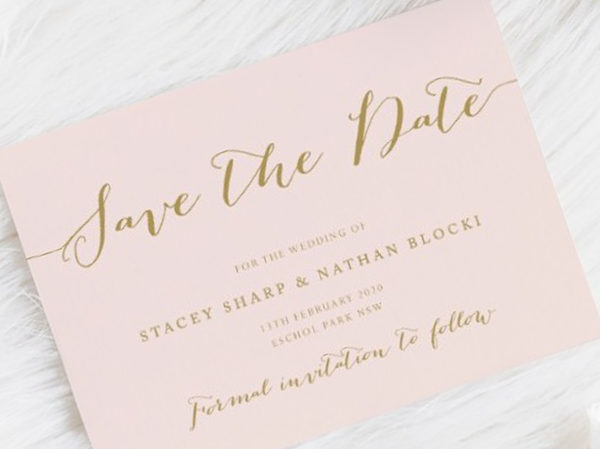 This means that you will have already chosen your wedding venue so that you know how many people will comfortably fit, and then you have made at least three drafts of the guest list in order to really, really know who you and your fiancé/e want to be there.
It's smart to send save-the-dates out 8-10 months before your wedding date, and send them only to guests you're positive will be invited.
Overlooking Hidden Expenses
Nearly every couple leaves "room for cushion" in their wedding budget; however, there's a difference between doing that and making room for hidden expenses. It seems that no matter how much research you do, there's always something unexpected popping up.
From including vendors in the catering head count, to tipping them, to marriage license fees, to wedding gown alterations, to bridesmaids/groomsmen gifts, hidden expenses can really add up. Do plenty of online searching, talk to friends, family, and wedding planners, and try to make room for anything and everything.
Falling In Love With Things Before Setting A Budget
We've saved possibly the most important for last.
Crunching numbers with your fiancé/e may not sound like the most romantic thing you can do, but trust us: setting a budget from the start will save you loads of stress in the long run.
As soon as you get engaged, you'll probably immediately start looking at wedding venues, décor, bands, dresses, etc. This can be dangerous, because you may fall in love with something, only to realize that that one thing costs more than what you're willing to spend on the entire wedding and honeymoon.
Don't set yourself up for heartbreak. Make a budget before you do anything else, and go from there.
There you have it: the most common wedding planning mistakes. We sincerely hope that reading through this article will help you avoid making them!