Every bride has an idea of how they want their hair to look on their wedding day. And they expect their pictured style to last through the pictures, dancing, and the send-off at the end of the evening. But many factors, like dancing and humidity, can cause wedding tresses to fall, wilt, and flatten out long before the final dance.
Here are a few expert tips to help ensure your wedding hair looks great through all the moments of nuptial bliss:
Lots of Hairspray
Now this one may seem obvious, but many brides choose to opt out of hairspray or choose less of a dose because they think they'll end up with unnatural, crunchy hair. However, professional hairstylists know the best kind of hairspray for brides and the ones that give you soft hair and natural movement with maximum hold. Before the big day, purchase a travel sized hair spray in medium-to-strong hold so that your maid of honor can spray you down throughout the evening.
Add Volume
There is a fine line between having a little bit of volume and looking like a pageant queen from the 80's. Even if your hairstyle doesn't necessarily require tons of teasing, asking your hair stylist to give you a little bit of volume will help ensure that by the time you arrive at the reception, your hair isn't flat on your head.
Begin High and Tight
Even if your actual wedding day style will be a tousled down style, starting with it up high and secure will allow the curls to set and any volume to keep its shape. If you get your hair curled and your stylist leaves you with your down style, chances are, your curls will naturally fall and loosen; hello, gravity! By the time of the reception, your hair may be a little to loose for your liking. Start the day with tight curls that are pinned up on your head, and by the time the ceremony starts, they will be perfectly relaxed and tousled.
Add Accessories Last Minute
If you want fresh flowers in your hair on your wedding, you need to wait until the last minute before the ceremony to get them secured in your hair. Fresh blooms will wilt easily, especially on a hot, summer day. Flowers will last longer if they are kept in a cool area, like a fridge, up until the last possible moment. This way you aren't sitting in your final look hours before your ceremony, and you will look perfectly primped the way you want to right before you walk down the aisle.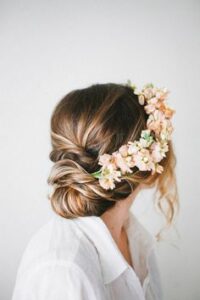 Dirty Hair is Best
You may have heard that dirty hair, or "day two" hair, holds styles the best. Well, this is definitely true for all wedding styles especially up-dos and lots of curls. Wedding hair tips suggest going into the salon on your wedding day, or being ready when your stylist comes to you, with hair that was washed no sooner than one day before. You can further help add some grit to your hair by spritzing some dry shampoo before you get your wedding hair done. This will add some holding texture that is great for keeping curls and bobby pins in place.
Don't Fuss!
We know that you will be so excited but it's important not to touch your hair too much. Your fingers have natural oils on them which can rub off onto your hair, resulting in too much slip which may cause your hair to fall sooner than it should. The oils will also weigh your hair down, ruining some of the volume your stylist worked so hard on. You need to keep the grit in your hair, so as soon as the stylist pushes in the last pin and applies the last douse of hairspray, keep those fingers away!
Use Your Real Curls
We know, we know; it probably sounds cringe worthy picturing your natural, non-styled hair as the foundation for your look on your wedding day, but trust us, naturally occurring curls will last longer than heat-created ones. Avoid the temptation to flat iron your hair or blow dry it perfectly straight before your wedding day, and ask your stylist to add to your curls with the curling iron. Your natural curls will give you the perfect base of texture and bend you need for long lasting wedding hair.
Test the Veil
If you plan to wear on veil on your wedding day, it is always a good idea to test drive it with your desired style to see how they work together or if you'll need some extra reinforcement on the big day. Every bride has a style in their mind, and they also have the perfect veil pictured. However, these two images don't always work well together and you should know this ahead of the wedding. Bring your veil to your practice run with your stylist so you both can see what shifting and wiggling it will take to ensure your veil stays put on your wedding. Some heavier accessories like long veils with weighted fabric or jeweled head pieces can be uncomfortable and cause headaches, so if you know going into your wedding day that your accessory causes discomfort, your stylist can tease areas in your hair to act as a cushion so you don't feel anything.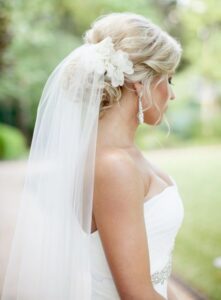 Choose an Authentic Style
If you aren't totally comfortable with the idea of having a totally out of the ordinary hair style, or you'd simply rather be more comfortable, there is nothing wrong with going with a hair style you already rock. And besides, your soon-to-be husband clearly already loves it! Have your hair stylist elevate it a little with either some volume, soft natural waves, or add a pretty accessory like a jeweled clip or a flower crown to feel less everyday and more special.
Recruit a Lovely Accessory
There are so many beautiful hair pins and clips that instantly boost any hair style, especially simpler down styles, and that also help you feel more comfortable. A pin or clip can keep bangs out of your face, reduce your urge to touch and primp your hair, and allow your gorgeous face to shine on your wedding day. Accepting the aid from a hair clip or pin will also be especially helpful during pictures when even the slightest breeze can sweep your hair into your face, causing you to struggle to keep it away and become frustrated.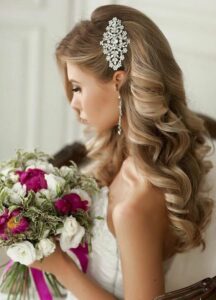 If you follow our wedding hair tips (and, of course, select an amazing hair stylist), we are confident that you'll feel beautiful all day and night long, through wind, heat, pictures, and dramatic dance floor dips from your new hubby!