Choosing the wedding favor you'll give to your guests is just one more decision brides have to make. And although you don't want to spend a ton of time making this decision, you probably don't want the favors to be just like every other wedding either. Besides, how many picture holders, candles, and engraved chocolates does a wedding guest need? (Okay, maybe there's no limit on chocolate), but you get the point. Just like the rest of your wedding, you want the little details to be unique and memorable.
Here are some fun and unique ideas from Etsy for wedding favors your guests will truly love:
Artisanal Soap
Who doesn't love homemade, artisanal goodies? Hand-crafted soaps are something all guests can appreciate. They are also unique, and not just because you don't see them at every wedding, but because you can customize them to certain scents and colors. Contact a soap maker on Etsy and see if they might be able to craft some soap using the smells of the flowers you'll have in your bouquet and centerpieces.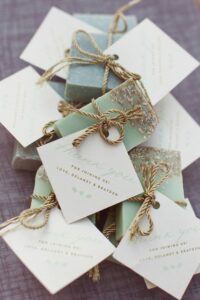 Potted Succulents
Potted succulents are not only totally adorable, they are also elegant, and something everyone will love bringing home. There are many shops on Etsy that work with brides to create custom favors, and you can have your guests' names written on personalized paper flags or with elegant hand calligraphy right on the pot.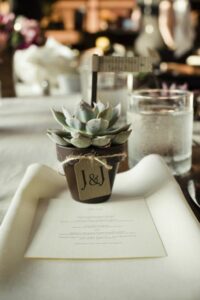 Antique Key Bottle Opener
Practical and pretty! Guys and gals will love this wedding favor you can find on Etsy and you'll love knowing that it'll be used for many future events and parties. You can have a custom tag made that ties onto the key written with either your and your future spouse's name, or with each of your guests' names.
Packaged Coffee Beans
If you and your hubby-to-be are coffee lovers, then this favor will suit you two perfectly. Look on Etsy for freshly roasted beans that arrive to you packaged in nice wrapping with twine, and a custom stamp that says your names or initials.
Custom Scented Candles
We know we said that you may wish to step away from giving candles as favors, but we didn't mean really cool, custom candles from Etsy! You can work with a candle maker to create cute miniature soy candles that come with custom labels for your wedding and custom blended scents that will whisk your guests away to your wedding day every time they take a whiff.
Match Boxes
Who can't use an extra box of matches? And besides, there are plenty of ways you can pretty them up and customize them to your wedding with your colors and initials printed on the box. Encourage guests to use them when lighting candles for a romantic dinner at home, and they'll be sure to think of you and your "perfect match."
Sunglasses
If you're having a summer wedding and the weather is looking like it'll be sunny, what could be more appreciated by your guests than a pair of sunglasses? They may forget to grab theirs, or they may purposefully leave theirs at home not wanting to risk forgetting their expensive shades. Work with a seller on Etsy that does custom lettering and have your names, wedding date, or other short saying printed on the sides of the glasses. Your guests will be all ready to rock the photo booth!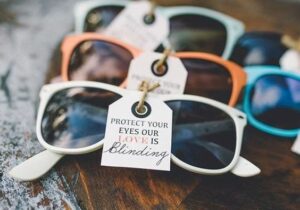 Seed Packets or Bombs
While the seed packet is still a lovely wedding guest favor, the newer option is the seed bomb now found on Etsy. The bombs resemble bath bombs, and they are handmade with eco-friendly materials and can contain the seeds of the flowers used on your big day. Your guests can plant the seeds and have a part of your wedding in their gardens to enjoy every summer.
Hand-Crafted Lollipops
Everyone loves the chance to be a kid again, and specialty crafted lollipops from Etsy are sure to get everyone in the mood. You can find flavors as unique as rose and honey, red velvet cake, and other classic wedding cake flavors for a clever spin on dessert that your guests will love.
Custom Wine Glasses
You can have the details of your wedding day elegantly printed onto wine glasses that can be used at the wedding and taken home by guests as favors. This is a great idea if you feel you'll have limited space on the table and don't want too many objects taking away from the actual décor. And every time your guests take a sip from the glass in the future, they'll be thinking of you and how much fun they had celebrating at your wedding.
All of these favors can be found on Etsy, and you'll have so much fun working directly with the seller and designer to offer your guests something truly unique as a way to say "Thank you!"