Imperial Palace Banquet Hall is proud to announce our new, beautifully-redesigned website! Visiting guests will now be treated to dozens of high-resolution images, easy-to-use navigation and interactive features, informative content about our venue and services, and fully responsive browsing that is accessible on any type of device. In revamping our website, we set out to deliver the same "WOW!" factor that guests experience at our venue, and we sought to make our presence on the internet an accurate reflection of our commitment to customer service and dedication to excellence. Now, with the help of Alecan Marketing Solutions and hundreds of hours of hard work, we believe Imperial Palace's new site lives up to our high standards. Welcome!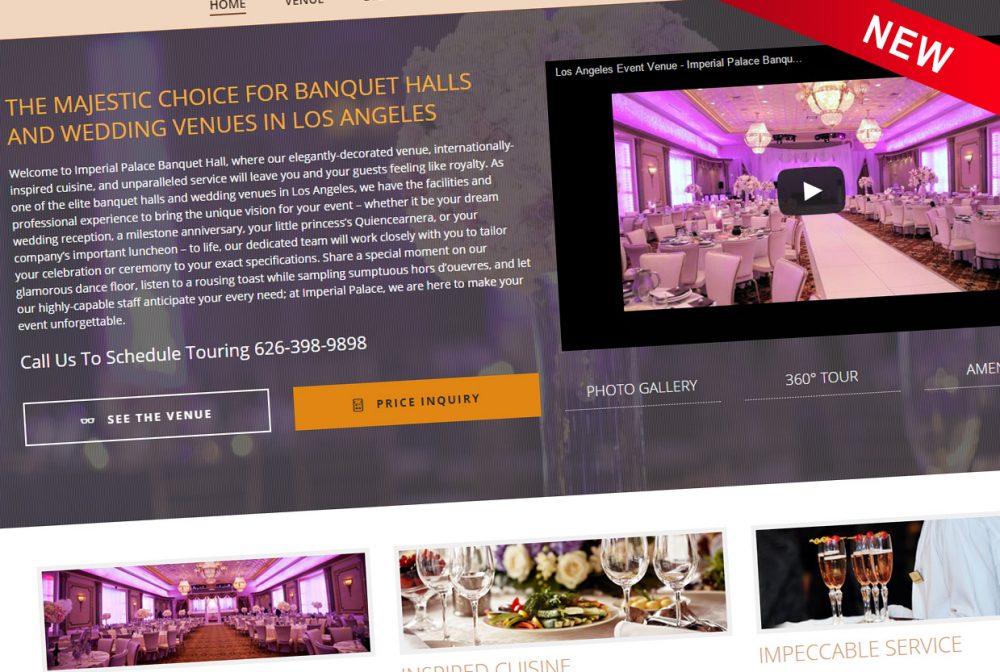 Along with our website's new look, those familiar with our venue and previous website may notice that now, instead of residing at the URL www.pasadenabanquethall.com, Imperial Palace has its own brand-focused website address. While nothing else about our business has changed – we still reside at the same location and still have the most breathtaking venue in Los Angeles, not to mention excellent cuisine and exceptional service – we felt that focusing attention on our banquet hall's name (instead of our location) would further set ourselves apart from the competition. Our goal is to make Imperial Palace Banquet Hall a trusted, household name is event and wedding venues, and our new website is the first step in achieving this goal.
As you probably already know (because you're here!), our new site will also feature regularly-updated blog posts. Though this post is simply an introduction, following blog articles will cover topics relevant to you such as: current wedding trends; party ideas for birthdays, bridal showers, and holiday get-togethers; how to make a great impression at your corporate event; money-saving tips and tricks; creative food and beverage ideas; current news about Imperial Palace as it affects you, including special offers and exciting additions to our facilities; and a whole lot more. Have an article idea or topic that you'd like to know more about? Let us know!
To provide feedback or contact Imperial Palace for more information about our services or event venue, simply click here or go to the "Contact Us" page. We hope you enjoy our new website and we look forward to hearing from you soon! Thanks for visiting!