Your wedding should be one of the sweetest days of your life; why not keep with the occasion and include a candy buffet at your perfect reception?! Adults and children alike – not to mention brides with a sweet tooth – will enjoy indulging in your favorite treats, and a well-designed sugar-station can make for some wonderful photo opportunities. Follow our simple guide to creating a unique and beautiful-looking candy bar that will spoil your guests and set your special day apart.
What Kind of Candy Should We Get? In general, we recommend that couples always include their favorites in the candy bar – it is your wedding day, after all, and you deserve to be surrounded by all the things you love! Aside from this, brightly-colored candies that complement your theme or wedding colors are always aesthetically-pleasing and great for taking pictures, and guests will appreciate sweets that pair well with your reception's food or cake choices. Temperature and season may also influence your decision when choosing the type of candy at your reception; if you're having a July wedding and your candy bar is outside, it's best to avoid candy that can melt, like chocolate (despite what M&Ms says, they will melt if left outside in the sun, candy-coated shell or not), and seasonally-theme sweets – like pumpkin and cinnamon-flavored goodies during fall or citrusy candies for summer – can be a great way to stir up conversation. Finally, be sure to consider any guest allergies, and label any candy containing specific allergens – or better yet, leave it off the table altogether.
How Should We Design Our Candy Bar? Though candy vendors may already have a variety of design options for wedding planners to choose from, it's nonetheless important for the bride and groom to be involved in the final layout and look of their candy station. The most important rule, in our opinion, is to make sure your candy selections are visually stimulating as well as delicious – in the words of one wedding planner, "it should look so pretty that guests don't want to touch it." Coordinate your candy choices with the color palettes chosen for your wedding, and create depth and height of your display by constructing tiers out of tablecloth-covered boxes and by using different-sized serving containers. Centerpieces are also a great way to bring cohesion to the different cavity-inducing-elements populating your candy bar; consider using flowers, candles, or even an aquarium full of color-coordinated betta fish! Use your imagination, the sky's the limit!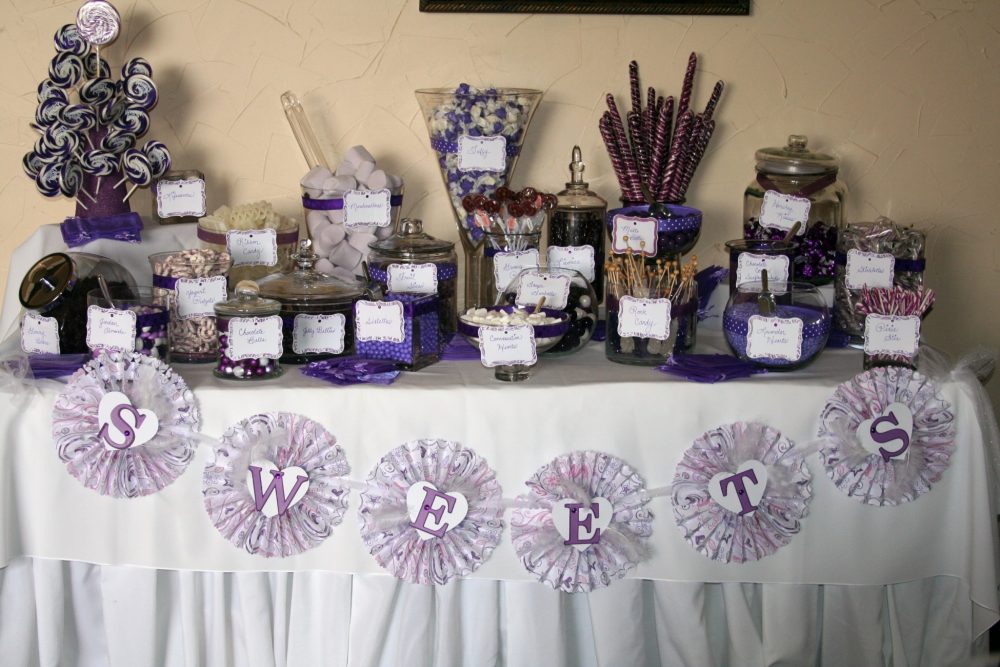 How Much Candy Should We Buy? According to our candy experts, a well-stocked candy bar should have 7 to 10 different types of sweets, and one should expect to buy anywhere between .25 lbs and .33 lbs of candy per guest. (A reception with 100 guests, for example, should have a sugar-buffet with between 25 and 33 lbs of candy.) It's always better to have too much candy as opposed to too little; guests can always take home extra treats as adorable – albeit short-lived – mementos of your special day. Buying candy locally, too, is often less expensive than ordering candy online, and you may receive discounted prices when ordering through one of your wedding venue's preferred vendors.