Getting married in southern California in summer is a beautiful time to wed your true love. And while you will both be looking smokin' hot, all of your guests will be hot too—sweating hot that is. As wonderful as your wedding will be, you need to take the time to consider and prepare for the intense heat, and give yourself, bridal party, and guests a chance to cool off and relax with these tips.
Offer Fans or Parasols
If you're getting married outside, then you probably don't have a tent nearby or any type of shade to offer relief from the blazing sun. And, of course, there won't be any air conditioning. When your guests arrive at the ceremony venue, be sure to have fans and pretty parasols available for them to use if they would like. A great idea is to make your wedding programs double as fans by attaching them to sticks for holding. And if you would prefer something a little more formal, silk fans will do the trick. These pieces will look charming at your wedding and your guests will be very appreciative.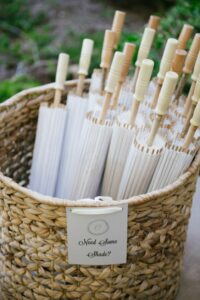 Have a Beverage Station Waiting
While your guests wait for the ceremony to start and mingle with other guests, allow them to cool off and stay hydrated with an elegant beverage station with various chilled drinks like mint water, lavender lemonade, and iced tea. They can sip while they wait, take a cup back to their seats to keep cool during the vows, and can replenish their thirst after the ceremony before they head over to the reception.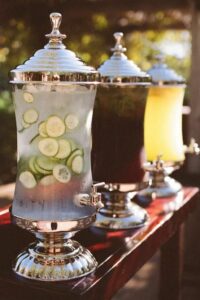 Provide Evian Spray Bottles
Either pre or post-ceremony, have someone hand out bottles of Evian mineral water spritzers for guests to gently cool off and provide their skin with some much-needed moisture. Fun fact: a light spritz of water can actually help makeup to set and stay in place, preventing it from melting off from sweat.
Rent an Ice Cream Trolley
Your guests will be screaming for ice cream when they see the trolley pull out either at your ceremony venue after the "I dos", or waiting for them at your reception. And not just because they crave something sweet. Renting an ice cream trolley that comes with a few different flavors and mini cones or cups is the perfect way for guests to cool off after a steamy ceremony and for you to incorporate a fun surprise.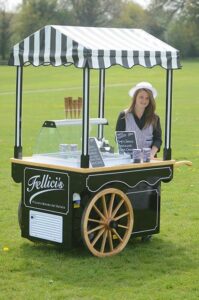 Chill Your Signature Cocktail
Once your beautiful ceremony is over and your guests arrive at the reception for the cocktail hour, offer them chilled, refreshing drinks as your signature cocktails. Just imagine how delicious a rosé slushy in an elegant glass with frozen fruit will taste after a hot, sweaty ceremony outside in a dress and heels or a suit. Have fun with cute names like "Blushing Bride" for the rosé cocktail, and "Tall, Dark and Handsome" for a chilled coffee drink.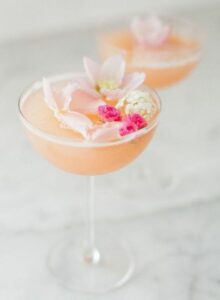 Have an Indoor Reception
The ceremony may only last for a half an hour to an hour, and your guests should be able to withstand the heat for this short period of time, especially if you provide the suggested tips listed above. However, the reception is the longest part of the evening and is what everyone looks forward to most. Make it easy on everyone at your wedding, including yourself, and ensure everyone enjoys themselves the entire time by hosting your reception in an indoor venue. The heat and sun won't be anything to worry about, as guests arrive and cool off with delicious chilled cocktails and unwind in the air conditioning and soothing atmosphere. With an indoor reception, everyone will be able to enjoy the dinner and cake you picked out without sweating in it, and will be able to dance all night long and celebrate with you properly.
If you're looking for an incredible indoor reception venue to house your summer wedding, check out the Imperial Palace Banquet Hall. Your wedding will not only be drop-dead gorgeous at this venue but it will also be comfortable and relaxing for everyone.