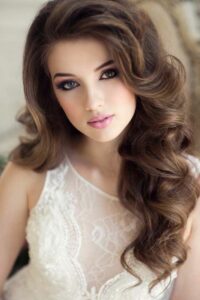 As you get ready to celebrate your big day, there are lots of last minute preparations and things to buy. You've probably planned for pre-wedding manicures, massages, and facials, but what about wedding day essentials? Here are some wedding day beauty basics that will help you look the very best for your big day.
 Foundation Primer
Foundation primer is a great first step in your wedding day makeup routine. A primer will give a smooth and even base on your skin, for your foundation to sit on. It keeps your foundation looking fresh, longer, and will ensure that your skin looks perfect and glowing for your pictures. This is especially helpful if you have oily skin or if your wedding destination is in a warm location.
A Complexion Enhancer
There are a variety of choices for complexion enhancers, depending on the level of coverage that you want on your wedding day. If you feel confident in your skin looking great for pictures you may want to use a simple, tinted moisturizer or BB cream. If you need more coverage or want to look flawless in pictures, a foundation is a great choice.
Blush
Blush is lovely for creating contour and definition after your foundation. When selecting a blush, remember that you want a hue that will compliment your skin tone, and not overwhelm your face.
Beige Eyeshadow Base
A perfect color to set any combination of colors is beige. Before you apply color to your eyes, start with a beige base. A neutral shadow will create a smooth, even tone across your lids, and help the rest of your eye color set in without creasing. For better results, start with a shadow primer.
Black Mascara
Not brown, not blue, not purple. Black mascara. Black mascara will help your eyes stand out and bring attention to them. In photos, black mascara will help define your eyes and make them look brighter. If you are afraid about any wedding day tears messing with your look, find a waterproof mascara. Waterproof mascara will also stand up to heat and is less likely to smudge.
Perfume
Don't forget that you want to smell beautiful, not just look beautiful on your wedding day. Go for a scent that is light and not too strong. A good choice is a light floral scent that will last all day, and will be easy on the nose. You may also want to consider a scent that your husband-to-be enjoys. That way he is sure to want to spend the day extra close to his new bride!
A Flattering Lipstick
Good wedding day lip colors fall in the neutral, pink and red tones. Select a color that goes well with your skin tone and compliments the rest of your wedding day makeup. If you want to use a bolder color for a fun and unique look, make sure that you select a color that works with your skin. Start with a lipstick primer to keep your lips looking beautiful without constantly having to reapply your lipstick.
Every bride wants to look her best on her wedding day. Make sure that your wedding day beauty routine includes these basics so that your makeup lasts from the start of your day, all the way through the last dance. As you plan your special day, don't forget that the professionals at Imperial Palace Banquet Hall are here to help make your day unforgettable. Contact us to learn how we can help.