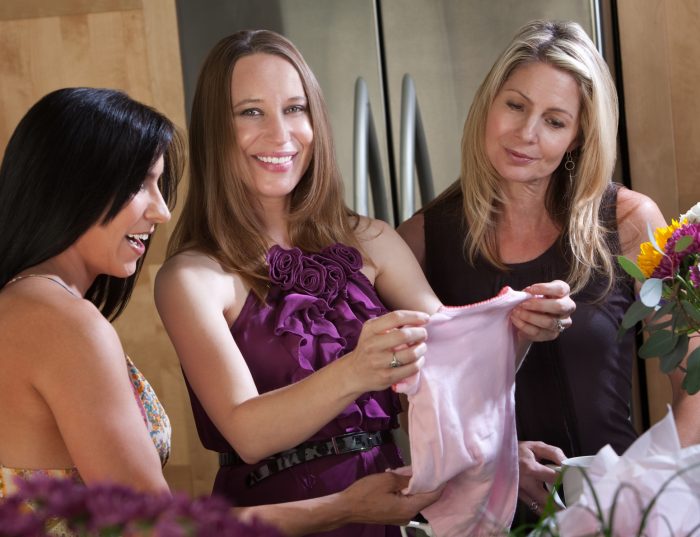 Congratulations! You and your spouse are about to have a child, and what better way to celebrate the upcoming arrival of a new family member than with a baby shower? Baby showers have long served as a celebration of motherhood — both the wonder of carrying a child and the act of welcoming it into the world — and deserve just as much celebration as any other major milestone. But actually planning a baby shower is easier said than done.
If you're looking or some help planning your baby shower, then you're in luck, because the team at Imperial Palace Banquet Hall has created a helpful baby shower planning calendar that charts everything you'll need to do before your event. Read on for some tips and advice on planning your baby shower.
Take a tour of Imperial Palace Banquet Hall in the video below: 
10 Weeks Before
+ Determine A Party Host — Considering the number of traditional games and activities, baby showers are typically hosted by the mom-to-be or one of her close friends. If you don't want to take the reins of your party, consider enlisting your best friend as the "official" host, that way you don't get overwhelmed during the event.
+ Set A Budget — You'll have to make a lot of purchases as you plan your event, and don't want to spend to much. Set a budget early on, that way you know how much you have to spend on the baby shower and have a better sense of where you can save and when you can splurge.
+ Pick Your Party Venue & Date — You can't host a party without a venue! Be sure to determine when you'd like to have your baby shower, then contact some event venues in your area to see when they're open for your date. If possible, you should visit some potential venues, that way you can make the best decision for your party's success.
+ Draft Your Guest List — You'll want to invite loved ones, friends, and family to your baby shower. Take some time to sit down and list everyone you'd like to invite before sending off invitations. You'll probably be surprised by how many guests you'd like to have!
Six Weeks Before
+ Send Out Invitations — You want to provide guests with enough time to put your event in their calendars. Sending invitations six weeks in advance provides ample time for guests to respond and plan ahead. And if you're looking to save money, you can always email invitations or create a Facebook event for the party instead of sending traditional paper invites.
+ Plan Your Catering Menu — Your celebration deserves delicious catering. Consider what kind of food you'd like to have at your baby shower, and research caterers who can meet your needs. If you're hosting an event at Imperial Palace Banquet Hall, our catering services can certainly meet your needs.
+ Purchase Or Create Decorations — Depending on the accommodations of your event venue, you might need to purchase your own decorations for the event. Be sure to see what decor options your venue will provide, that way you don't spend when you don't need to. For a more personal feel, you can also craft some DIY baby shower decorations.
Four Weeks Before
+ Prepare Party Games — Traditional baby showers feature a number of fun and festive party games. Research some popular baby shower games and decide if you'd like to include them at your celebration.
+ Find Some Extra Party Help — The day of your shower is bound to be a bit hectic. Enlist some extra help from your best friends early to ensure everything goes smoothly.
+ Book An Event Photographer — You'll want to capture all the excitement and fun of your baby shower, and what better way to do that than with some great photos? Book an event photographer about a month in advance, providing them with enough notice to add the event to their schedule. To save money, you can also designate one of your more artistic friends as the "official photographer."
Two Weeks Before
+ Follow-Up With RSVPs — People sometimes forget about upcoming events. Be sure to follow-up with party guests you haven't heard from to see whether or not they'll be attending your shower.
+ Prepare Your Party Favors — You'll want to thank your guests for their love and support with some fun party favors. Be sure to prepare them ahead of time, leaving one less detail to worry about as your baby shower approaches.
The Day Of The Party
+ Arrive At Your Event Venue Early — Every detail of your baby shower should meet your expectations. To ensure that's the case, be sure to arrive at your event venue early, that way you can double-check everything before the party.
+ Have Fun! — All your hard work has paid off. Your guests are having a great time, your event venue is beautiful, and your catering is truly delectable. Don't forget to relax and have some fun during your baby shower.
Planning a baby shower can be pretty hectic, but if you get started early and enlist some help from your family and friends, everything will go smoothly. If you're looking for a baby shower venue in Los Angeles, consider Imperial Palace Banquet Hall. Our event venue is perfect for all types of social events, from baby showers and birthday parties to wedding receptions and so much more. And with our affordable accommodations, we're able to serve events with just about any budget. Contact Imperial Palace Banquet Hall today for more information about booking and availability.