Buying the perfect diamond engagement ring for your fiance is one of the most important decisions you will make in your life, and if you want to start your marriage off on the right foot, probably one of the most expensive. Before you hit up Tiffany's, we recommend reading through our experts tips on how to stretch your dollars when buying your engagement ring. Good luck!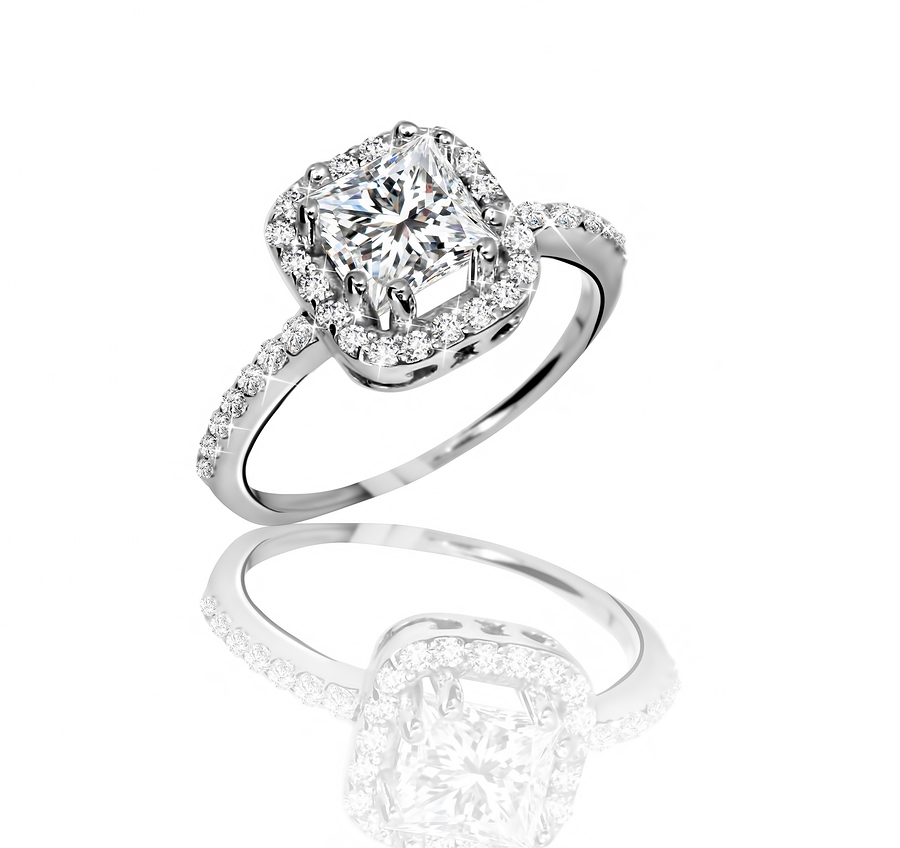 Ring Buying Tip #1: Create The Illusion of Size With The Right Setting
When it comes to diamonds, any girl will tell you: bigger IS always better. However, if you can't afford the type of engagement ring rock that's going to draw "oohs and ahhs" all by itself, opting for a smaller center stone and surrounding it with a halo of tiny diamonds (called Pavé diamonds) is an excellent way to create the illusion of size and brilliance without forfeiting six months' salary. Setting Pavé diamonds in the band is another relatively inexpensive way to draw more attention to your engagement ring without breaking the bank.
Ring Buying Tip #2: The Type of Metal Matters
If you're looking to spend the majority of your budget on your engagement ring's stone, consider using white gold for the band and setting. While not as strong or as durable as platinum, gold is also more common than platinum and therefore less expensive. Pro Tip: If you opt for a prong/Tiffany setting for your engagement ring, consider constructing the band from white gold and the prongs in platinum; gold will loosen over time, increasing the risk of losing your precious stone, while platinum is much harder and will protect your stone better than the softer metal.
Ring Buying Tip #3: Find The Right Balance Between the "Four Cs"
If you're shopping for an engagement ring, you're likely familiar with the "Four Cs" – cut, carat, clarity, and color. When it comes to diamonds, the two main factors that determine price are size (as measured in carats and, to some degree, cut) and quality (as measured in color, clarity, and cut); large diamonds can be less expensive is they are greatly flawed, for example, while a diamond of high quality might be small but extremely pricey. Because the naked eye cannot tell the difference between a perfect and a near-perfect (or even between a near-perfect and an average) diamond, most experts recommend sacrificing quality for size. Your F-G grade diamond might not be quite as brilliant as a perfect stone, sure, but if your fiance can barely lift her hand, we doubt she'll care too much.
Ring Buying Tip #4: Different Cuts Can Make A Difference
While round cuts, like cushion cuts (which have rounded corners and large facets) and princess cuts (which are square or rectangular) are the most popular diamond cut today, an emerald cut diamond may provide larger surface while using less carats; this means your stone will look bigger than other cuts, and because the emerald cut is timeless rather than trendy, your ring is guaranteed to never go out of style.
Ring Buying Tip #5: Save Money By Buying The Set
Jewelers and diamond sellers are always looking to move as many products as possible, and this can translate into extra savings for you and your bride-to-be. If you don't mind spoiling the surprise, consider buying both your fiance's engagement ring and wedding band at the same time. Certain styles are made to be worn together, and salesmen are more likely to sweeten the deal if you buy two (or even three!) rings at one time!